Thu, 15 July 2021 at 2:11 pm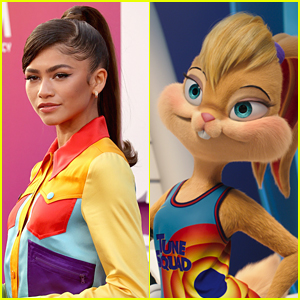 Zendaya will be starring in the long-awaited Space Jam sequel, but we'll only be hearing her voice in the film!
The 24-year-old Emmy award winning actress was revealed to be voicing the Looney Tunes character Lola Bunny back in June.
Malcolm D Lee, the director of the new movie, recently opened up about Lola and Zendaya stepping in to voice her.
See what he said inside…
"Zendaya's having a great moment right now," he told EW. "She's taking ownership of her image, her brand, her business. She's really the embodiment of Lola, to tell you the truth. That's the kind of projection of Lola that we wanted to have."
Malcolm also addressed the backlash about the changes made to Lola Bunny.
"I had no idea that people would be that up in arms about a bunny not having boobs," he said. "Listen, I understand people don't want things to change, but I think we needed some evolution with her, not by objectifying her but by making her strong and still feminine. And, yes, we had all these other women who were like, 'Oh, you can't be strong and have big boobs?!' Sure you can, but we're talking about a cartoon bunny not women!"
Zendaya also opened up about getting the call from producer Ryan Coogler to voice the famous bunny.
"It was flattering, because I got a call from Ryan Coogler, who is a producer on the film, and we share Oakland, so I've always wanted to work with him," Zendaya shared with EW. "So when he called, I was like, 'I'm probably going to say yes to whatever you tell me.' And when he told me about this, I was like, 'Whoa, this is a big deal.'"
"They had already started that reimagining of what she was, and I guess there's some spiritual connection between who Lola is in this film and maybe who Zendaya is, and maybe my voice would make sense for that new version of who she is," she continued. "So I felt very lucky that they wanted to do that with me. And it was a nice small part, so there's pressure for sure, but it could be worse — it could be all me. So there wasn't too much weight on my shoulders."
"It was a really special experience, and I just leaned on our incredible director Malcolm to take the lead and tell me what he wanted. And I really enjoyed myself."
If you somehow missed them, check out the photos of Zendaya's Lola Bunny-inspired look at the Space Jam premiere.
Space Jam: A New Legacy is out in theaters and on HBO Max TOMORROW (July 16)!
Like Just Jared Jr. on FB