Fri, 30 July 2021 at 3:23 pm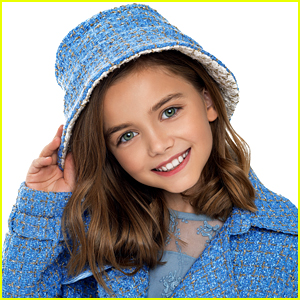 The Mysterious Benedict Society just debuted a new episode on Disney+ and we're getting to know one of the show's stars!
Marta Kessler portrays Constance Contraire on the series, about a group of gifted orphans recruited for a dangerous mission to save the world from a global crisis.
Click inside to see more…
Reynie, Sticky, Kate, and Constance must infiltrate the mysterious L.I.V.E. Institute to discover the truth behind the crisis. When the headmaster, the sophisticated Dr. Curtain appears to be behind this worldwide panic, the kids of "The Mysterious Benedict Society" must devise a plan to defeat him.
We learned more about Marta, who is from Russia, with 10 Fun Facts. Check them out below and be sure to catch The Mysterious Benedict Society on Disney+!
1. My first shoot took place when I was only 4 months old. I took part in a baby food commercial. Later, when I was 3 years old, I worked on my first movie, it was a short film called Pumpkin, for which I received multiple international awards. Now my filmography consists of 56 projects!
2. My mom was a Bolshoi Theatre ballerina, so I spent my early childhood behind the curtain, accompanied my mother on tours, and I even performed on stage of the London Covent Garden Theatre as a little Parisian in the Flames of Paris play. I still work on stage in a musical Animal Carnival at the Bolshoi Theatre.
3. I am a cat lover; I adore my cat Mira that was gifted to me while filming The Spacewalker. I dream of having 7 cats even though my parents are against it.
4. The Spacewalker movie is based on the cosmonaut Alexei Leonov, who was the first person to conduct a spacewalk, exiting the capsule on his mission in 1965. I played his daughter in the movie, and Mr. Leonov was so amazed by my performance that he kissed my hand at the premiere.
5. I love Hayao Miyazaki's animated films, my favorite one is Spirited Away. I dream of visiting the Studio Ghibli Theme Park in Tokyo!
6. My biggest fear is fire alarms – I hate the fire drills at school.
7. It is an interesting fact that most of my characters in films and series have superpowers – I played a little witch, a mermaid, a ghost, a girl who puts people to sleep, who sees the future, a girl with hypnosis skills. During the shoots of numerous projects, I was taught how to work with weapons, film underwater, I took up horse-riding, ziplining, I also learned lines in Lithuanian, Ukrainian and Bashkir languages.
8. I always dreamed of having a short and memorable last name, so in 2021 I decided to take my great-grandfather's family name – Kessler. My real last name is Timofeeva.
9. Constance's hairstyle in The Mysterious Benedict Society was purely my idea – I attended a rehearsal with two braids in buns, which the creative team loved and decided to keep.
10. I am Russia's first child actor hired as a series regular in a major US project. I was 10 years old when I was cast as Constance.
Like Just Jared Jr. on FB