Tue, 03 August 2021 at 6:17 pm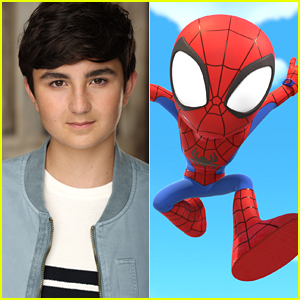 Benjamin Valic is starring in the upcoming Disney Junior series Marvel's Spidey and his Amazing Friends!
The young actor voices Peter Parker in the new show, the first full-length Marvel series for preschoolers.
Click inside to see more…
Here's a synopsis: Our favorite neighborhood web-slinger is used to working solo, but now Peter Parker must discover what it takes to become a truly amazing super hero: being a spider friend who works well with others. Together with his friends Miles Morales and Gwen AKA Ghost-Spider, they will team up with heroes such as Hulk, Black Panther and Ms. Marvel, to defeat evil foes and learn that teamwork is the best way to save the day.
Benjamin is perhaps best known for voicing Baby Sonic in the Sonic the Hedgehog movie. His other credits include Big Little Lies, Tall Girl and The SpongeBob Movie: Sponge on the Run.
Ahead of the series premiere, which is THIS Friday (August 6), we got to know more about Benjamin. Check out 10 Fun Facts about him below!
1. I always start my day off with an açaí smoothie. On work days, I have a hot cup of tea with honey and a toasted croissant.
2. I started swimming at an early age and was on a team for a while. Now, I make it my goal to swim for at least an hour a day.
3. I love going to the beach and swimming in the water. The ocean is mesmerizing and beautiful… but at the same time it terrifies me.
4. I love art and drawing. I get inspired by characters from TV shows or games.
5. I studied Japanese for a year in school — boy was it hard. I love everything Japanese – food, culture, and, of course, anime!
6. I started playing video games at a young age, and always mimicked characters and their accents before I knew I wanted to be a voice actor.
7. If I could wear one outfit for the rest of my life it would be a white shirt, my slides and my favorite comfy pair of plaid pajama pants.
8. I love adding hot sauce to practically everything. Spicy food is my absolute favorite thing to eat.
9. I really enjoy watching all kinds of movies from Star Wars to anything Marvel. I have a lot of favorite actors, but if I had to choose it would either be Adam Sandler or Robert Downey Jr.
10. I enjoy expressing my emotion through poetry and literature. I always bring a good book to read or my own notebook to write in when I'm on the road.
Be sure to check out Benjamin in back-to-back premiere episodes of Marvel's Spidey and His Amazing Friends on Friday (August 6) at 9am and 9:25am ET/PT on Disney Channel and Disney Junior.
Like Just Jared Jr. on FB