Thu, 05 August 2021 at 5:11 pm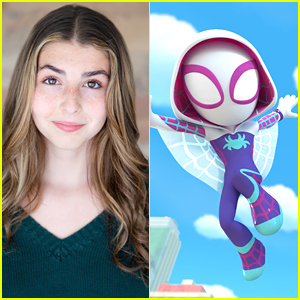 We are getting to know actress Lily Sanfelippo!
The young actress voices the role of Gwen Stacy (aka Ghost-Spider) in Disney Junior's upcoming Marvel's Spidey and His Amazing Friends, which is the first full-length Marvel series geared towards pre-schoolers.
Click inside to read more…
Here's a synopsis: Our favorite neighborhood web-slinger is used to working solo, but now Peter Parker must discover what it takes to become a truly amazing super hero: being a spider friend who works well with others. Together with his friends Miles Morales and Gwen AKA Ghost-Spider, they will team up with heroes such as Hulk, Black Panther and Ms. Marvel, to defeat evil foes and learn that teamwork is the best way to save the day.
The series premieres TOMORROW morning (August 6) with back-to-back episodes, starting at 9am ET, on both Disney Channel and Disney Junior!
You actually may recognize Lily's voice from a few other Disney shows - The Chicken Squad, Vampirina, or The Owl House. She's also been seen on screen in Superstore, Young Sheldon and Criminal Minds.
We've been getting to know the stars of Marvel's Spidey and His Amazing Friends, and we have an exclusive 10 Fun Facts with Lily right here. Check 'em out:
1. Brownies are my favorite food!
2. My favorite season is fall because I love pumpkins and Halloween!
3. I grew up dancing at my mom and dad's dance studio – my favorite style of dance is hip hop!
4. My favorite sport is skiing!
5. My little sister and I are both named after flowers – Lily Rose and Violet Ferne!
6. I love to go camping and spending time outdoors.
7. I love riding roller coasters and going to theme parks – Disneyland is my favorite!
8. My favorite candy is Reese's Peanut Butter Cups.
9. My dad inspired me to start acting and doing voiceover – he is a voiceover actor too!
10. I got to meet Vice President Kamala Harris!
Don't forget to check out our exclusive features with the voice of Miles Morales, Jakari Fraser, and the voice of Peter Parker, Benjamin Valic!
Like Just Jared Jr. on FB