Tue, 10 August 2021 at 5:08 pm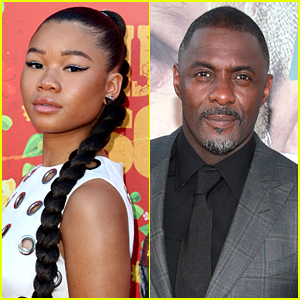 Storm Reid is opening up about working with Idris Elba on The Suicide Squad!
The 18-year-old actress plays Tyla, the daughter to the 48-year-old actor's Bloodsport, and the two share quite the scene together.
Click inside to read more…
In the scene, Storm is basically cursing out Idris (who she's a big fan of), and in a new interview, she admitted that that was "very intimidating."
"It is very intimidating, especially the way you put it, cursing out Idris Elba!" she told Variety. "It's all part of the fun of acting, stepping into your character's shoes and trying to embody a character, but also not neglect your raw emotion as a human being."
"They all made me feel comfortable. We had a day of going back and forth. Mr. James [Gunn], he really made us go at it and had us do it a lot of different ways. I think the cut that made it into the movie is really darn good and I'm proud of it," she continued.
Storm also shared that she would love to return if they asked her back for a sequel.
"That would be a dream to be able to come back if there were a sequel with Tyla and see how her character has grown and evolved and, probably, fits into the Suicide Squad," she said. "But I'm just grateful to have been a part of it. Maybe she'll pop up in the next one if there is a next one, and I would not be opposed to that at all."
"I think a lot of people who act would like to be a part of a superhero movie in some capacity. So it was a bucket list item that I'm able to check off, and hopefully I'll be able to be a part of more superhero movies in a bigger capacity," Storm added, saying this was absolutely a dream project.
The Suicide Squad is in theaters and on HBO Max now!
Like Just Jared Jr. on FB