Thu, 12 August 2021 at 2:31 pm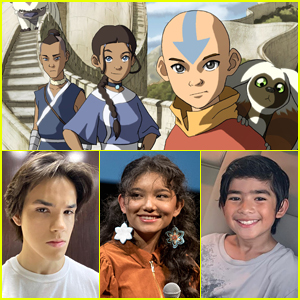 The main cast for the upcoming live action Avatar: The Last Airbender series has been revealed!
Netflix will be bringing the anime to life for an upcoming series on the streamer, with Albert Kim as showrunner and executive producer.
Learn more about the cast inside…
Gordon Cormier has been cast as 12-year-old Aang, Kiawentiio will play 14-year-old Katara, Ian Ousley will portray 16-year-old Sokka and Dallas Liu has been cast as 17-year-old Zuko. Find out more about the characters below!
"Netflix offers me the opportunity to develop a live-action remake of Avatar. My first thought was, 'Why? What is there I could do or say with the story that wasn't done or said in the original?' A:TLA had only grown in popularity and acclaim over the last decade and a half, which is a testament to how complete and resonant a narrative experience it had been. So if it ain't broke, why fix it?" Albert shared in a blog post.
"But the more I thought about it, the more intrigued I became. VFX technology has advanced to the point where a live-action version can not only faithfully translate what had been done in animation — it can bring a rich new visual dimension to a fantastic world. We'll be able to see bending in a real and visceral way we've never seen before," he added.
"We'll be expanding and growing the world, and there will be surprises for existing fans and those new to the tale. But throughout this process, our byword has been 'authenticity.' To the story. To the characters. To the cultural influences," Albert says. "Authenticity is what keeps us going, both in front of the camera and behind it, which is why we've assembled a team unlike any seen before—a group of talented and passionate artists who are working around the clock to bring this rich and incredibly beautiful world to life."
Learn about the characters and the cast's reactions below…
Gordon Cormier as Aang – a fearless and fun-loving twelve-year-old who just happens to be the Avatar, master of all four elements and the keeper of balance and peace in the world. An airbending prodigy, Aang is a reluctant hero, struggling to deal with the burden of his duties while still holding on to his adventurous and playful nature.
"Wow! I'm so honored to be casted as the legendary Aang in Netflix's live action adaptation of Avatar: The Last Airbender! Yip yip! Meet my new friends @kiawentiio @ianlousley @dallas_liu It's going to be a crazy ride!," he wrote on Instagram. "I want to thank production for casting me! My 2 totally amazing agents for all their hard work @ally_ptmagent and @abbybluestone and everyone else that's helped me along the way!! Everyone have an amazing day!!!! 🤟🤟🤟"
Kiawentiio is Katara, a determined and hopeful waterbender, the last in her small village. Though only fourteen, she's already endured great personal tragedy, which has held her back from rising to her true potential, though it's never dimmed her warm and caring spirit.
"It's official!! I'm excited to share that I've been cast as Katara in Netflix's live action adaptation of Avatar: The Last Airbender!! I know you all have been waiting, thank you for all the love 💙😁," she shared on Instagram.
Ian Ousley plays Sokka, Katara's sardonic and resourceful 16-year-old brother. Outwardly confident, even brash, he takes his responsibility as the leader of his tribe seriously, despite his inner doubts over his warrior skills… doubts that he masks with his wit and deadpan sense of humor.
"i can NOT believe it but i've been cast as Sokka!! in @netflix live action adaptation of avatar the last air bender! 😁😁sooo i'm gonna be checked out for the rest of the day. just CHILLIN and sipping my cactus juice. (it's the quenchiest)🌵🪃," he said on his Instagram.
Dallas Liu is Zuko, who is a skilled firebender and the intense and guarded Crown Prince of the Fire Nation. Currently roaming the world in exile, he's on an obsessive quest to capture the Avatar because he believes that is the only way to reclaim his life and live up to the demands of his cruel and controlling father, the Fire Lord.
Like Just Jared Jr. on FB