Fri, 13 August 2021 at 8:20 pm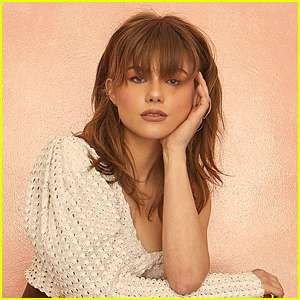 Kerri Medders is opening up about her new Disney Channel Original Movie Spin!
The 21-year-old actress can be seen in the Disney film as Ginger, a social media influencer with a heart and one of Rhea's closest friends. She is effortlessly cool and loves her fans, but is also fiercely protective of her best friends.
JJJ spoke with Kerri about her first DCOM, her own music and her upcoming projects, which includes the movie Jane, with Madelaine Petsch and Chloe Bailey.
Click inside to read our full interview with Kerri Medders…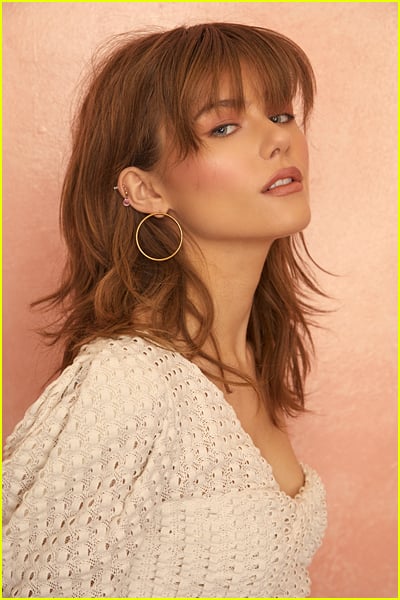 Just Jared Jr Exclusive Interview with Kerri Medders
Just Jared Jr: Can you tell us about your character, Ginger?
Kerri Medders: Ginger is a social media content creator with a heart of gold. She's very passionate about her friends' needs and is best friends to Rhea, Molly, and Watson.
JJJ: Did you pull any of your real-life self for her?
KM: I did! I pulled some of my characteristics to shape Ginger. For example, I get smiley and animated when I get excited about something, which you can see in Ginger throughout the movie. It's parallel to my life and how I express my excitement.
JJJ: What drew you to the role?
KM: What drew me to the role of Ginger is a refreshing take on someone popular; she has a social butterfly personality; she's passionate and quite the hype-man for her friends, which I absolutely love! Also, when I read the project was about DJs, I thought that was the coolest concept ever, and I knew I wanted to be a part of it.
JJJ: How excited were you when you found out you were going to be in a DCOM?
KM: I was very excited! I've been trying out for Disney Channel for ten years before I got the opportunity to be a part of the family, and needless to say, the project, Spin, was worth the wait.
JJJ: You recently shared your Disney Channel wand ID. How was that? What a wild dream come true moment!
KM: It's surreal. I almost started crying when I held the wand because it reminded me of my journey in this industry and how forever grateful I am to be part of such an exclusive list. I made my seven-year-old self proud. I also got to change outfits which is so cool!
Check out her wand ID right here!
JJJ: What is your favorite scene in the movie?
KM: My favorite scene in the movie has to be the Festival of Colors. I remember that day was very high stakes because we only had one take to get that perfect shot with all the colors. When the moment came to get that perfect shot, and colors started flying, I just started laughing out of pure euphoria because it felt like we weren't filming a movie anymore for those few seconds. It felt like a really special moment on the set, and I'm glad it was documented.
JJJ: How did you bond with your co-stars before/during filming?
KM: We had a ton of hangout sessions. Whenever we weren't working, we would find ways to hang out and get to know one another. There were many 'code names' board game sessions and playing our favorite songs in a circle.
JJJ: Did you know any of them beforehand besides Anna Cathcart?
KM: I didn't!
JJJ: What's your favorite off-set memory?
KM: We planned this elaborate group costume during Halloween and created the 'Bambinos.' We all were assigned a family member. Then on the night of Halloween, we rented a mini-van to drive around, and it was a highlight for sure!
See their costumes on Kerri's Instagram!
JJJ: Favorite on set memory?
KM: My favorite set memory was walking into the makeup trailer. I loved the energy created in the trailer, and it felt like a perfect way to start the workday. Also, shoutout to Faye Crasto, who worked on my makeup, she's the sweetest soul, and every time I worked and sat in her chair, my goal was to make her laugh.
JJJ: What is the one thing that stands out to you the most about working on this project?
KM: The representation for sure! This will be Disney's first Indian American movie, and one of the main themes is to follow your dreams which stood out to me. I feel we created something special with this film.
JJJ: Yes, exactly! The central theme of the movie is to follow your dreams. Do you have any advice on following your dreams?
KM: Chase your dream no matter what! Of course, there will be times when people won't agree with your choices, but you can't let that stand in your way. There will be people who will support and want to see you succeed, and those are the people you hold onto as you follow the road wherever it leads.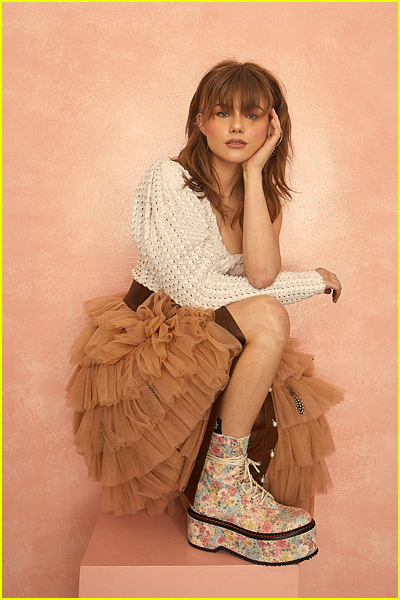 JJJ: What would be a dream role for you?
KM: Any project where I can work with Wes Anderson or Quentin Tarantino!
JJJ: It's been a while since you've released any music. Since Spin is based around music, did it spark anything in you? Do you have any plans for more tunes in the future?
KM: Let me tell you, "Feeling Good" was stuck in my head for weeks after the project was finished… I definitely want to release some more music in the future; it's just a matter of what I want to release since, at the moment, I've been super into the Folk/Americana vibe, so we'll see where it leads!
JJJ: What are you listening to these days? Current favorite songs?
KM: "All the Debts I Owe" – Caamp and "Running Away" – Vano 3000 has been on repeat, two completely different vibes!
JJJ: You've recently begun work on Jane; how has that been so far?
KM: It's been lovely! It's shooting in New Mexico, and I've never been, so exploring a new destination has been fun!
JJJ: Is there anything you can say about your character?
KM: My character's name is Josa, and she's a bubbly personality :)
JJJ: The movie centers on mental health. Is that something that stood out to you and made you want to do it?
KM: Yes! The film is about growing up in some of your most vulnerable years. There's always the feeling that you have the pressure of the world on your shoulders, and it tackles that subject.
Learn more about Jane right here!
Don't forget to catch Kerri Medders as Ginger in Spin, premiering TONIGHT (August 13) on Disney Channel!
Like Just Jared Jr. on FB