Wed, 18 August 2021 at 7:24 pm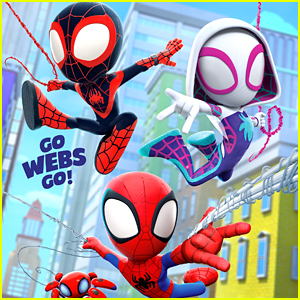 Get ready for more adventures from Spider-Man, Miles Morales and Gwen Stacy!
Disney Junior's Marvel's Spidey and His Amazing Friends has already been renewed for a second season, and there's only three episodes out so far.
See more inside…
Here's a synopsis: Our favorite neighborhood web-slinger is used to working solo, but now Peter Parker must discover what it takes to become a truly amazing super hero: being a spider friend who works well with others. Together with his friends Miles Morales and Gwen AKA Ghost-Spider, they will team up with heroes such as Hulk, Black Panther and Ms. Marvel, to defeat evil foes and learn that teamwork is the best way to save the day.
This is Marvel's first full-length series that is specifically geared towards pre-schoolers and quickly became Disney Junior's #1 series after premiering earlier this month.
"After just a week and a half into the launch of Marvel's Spidey and his Amazing Friends, we are already seeing how well the series is resonating with preschoolers and their families. With this season two order, we're excited to continue our collaboration with Marvel and bring even more stories of friendship and cooperation, and of course, exciting adventures with Team Spidey, to our young audience," Joe D'Ambrosia, SVP, Original Programming and general manager, Disney Junior, said.
"The premiere of Marvel's Spidey and his Amazing Friends has been a seminal moment in our journey to bring Marvel's stories to preschool audiences," president of Marvel Entertainment Dan Buckley shared. "Spider-Man has always been a character to break new ground for Marvel in every medium, so we're thrilled Peter, Gwen and Miles are resonating with so many fans. We can't wait to continue bringing that joy and experience to young kids and their families with a second season."
The series stars the voices of Benjamin Valic, Jakari Fraser and Lily Sanfelippo. If you missed them check out our 10 Fun Facts features with the stars – Benjamin – Jakari – Lily.
In addition to a second season, the first seven episodes of Marvel's Spidey and His Amazing Friends will become available to stream on Disney+ starting September 22nd!
You can catch new episodes of the show each Friday morning at 9am ET/PT on Disney Channel and at 12:30 and 7:30pm ET/PT on Disney Junior.
Like Just Jared Jr. on FB