Wed, 18 August 2021 at 9:08 pm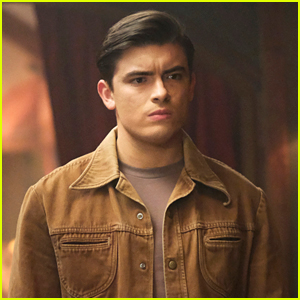 Michael Consuelos is back on Riverdale this week, portraying the younger version of Hiram Lodge once again.
The 24-year-old actor's real life father Mark Consuelos may be on the show, playing the adult Hiram of course, but that doesn't mean he was a shoe-in for the role.
In a Q&A on the Riverdale Instagram story, Michael shared a funny story about going to the audition for the part..
Find out what he shared…
"I auditioned for Hiram and I thought that looking like my dad would kind of give me a leg up on anyone else, and I thought I had an advantage," Michael shared. "When I got into the audition place, literally everyone in the waiting room looked like my dad. So yeah, it was pretty weird [laughs]."
He also responded to a question asking how it was working with his dad.
"Working with dad was really awesome. We had a lot of fun. We had some really great scenes together, and it was really trippy because with the mustache that he wears, he looks like my real life grandfather," Michael said. "So it was a pretty weird and surreal experience."
Catch Riverdale TONIGHT (August 18) at 8pm ET/PT on The CW or next day on the CW app or CWTV.com.
Like Just Jared Jr. on FB