Thu, 19 August 2021 at 8:02 pm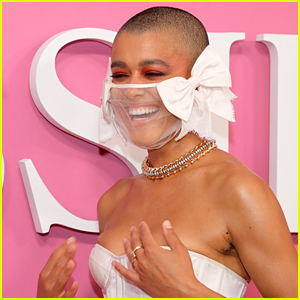 Jordan Alexander is sharing how she initially found out about the Gossip Girl revival!
The 28-year-old actress and singer now stars as Julien Calloway on the series, and it is kind of all thanks to one of her fellow GG co-stars…
See more inside…
"I initially heard about the project from Emily Alyn Lind—who's on the show with me now—because we were on a show in 2019 called Sacred Lies together," Jordan revealed to Byrdie. "She was telling me about it, and we got on really well. And she was like, 'Oh my God, you should be part of this show.' And I was like, 'sure, let me try, I'll put my best shot in, right?'"
She continued, "I never heard back, which you know is super normal for the acting industry. And so you move on. But then, in August of 2020, I got a request for a screen test, which is a really accelerated part of the auditioning process. So I was like, 'Wait, I did one audition… eight months ago, and now I'm doing a screen test?' That was very shocking and crazy. And then, by the end of September, I was in New York."
Jordan also dished on the original and what makes the revival similar to the OG.
"I loved the [original], and I think this show is very different. But in a good way, not in an unrecognizable way," she said. "You know, when you hear a song, and you're like, 'Oh, that sounds familiar, but I don't know where or how?' It just gives you that good feeling, but it's not a replica of the old show at all."
Gossip Girl is currently on a mid-season hiatus. Find out when it's coming back!
Will there be more OG character cameos in the upcoming episodes? See what showrunner Joshua Safran revealed…
Like Just Jared Jr. on FB