Mon, 23 August 2021 at 2:11 pm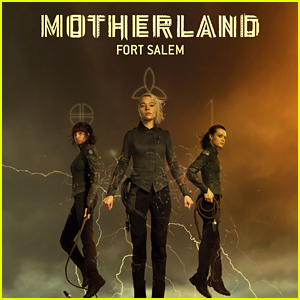 Motherland: Fort Salem will be back for just one more season!
It was just announced that Freeform has picked up the series for a third and final season, according to Variety.
The news comes just ahead of the season two finale, which airs TOMORROW (August 25) on the network.
Click inside to read more…
"We're excited to bring Motherland: Fort Salem back for a third season," Tara Duncan, Freeform president, shared in a statement. "I am grateful to Eliot and the entire Motherland team. They have created a truly immersive mythology that has resonated with fans since day one, and I know this last chapter will continue to deliver."
Creator Eliot Laurence added, "Every time we get to dive back into the world of Motherland: Ford Salem, it's a pleasure and an honor. I can't wait to bring season three to the world. We plan to ramp up the insane stakes of the finale with an epic, scary, satisfying ride, all the while getting deeper into witch's ancient origins. We are so grateful to Freeform for the opportunity, and to our fans — your love is palpable, wait till you see what we have in store."
Motherland: Fort Salem follows three young women from basic training in combat magic into terrifying and thrilling early deployment. In this world, the traditional roles of gender and power are flipped with women on the front lines, the fight looming and terrorist threats that are strikingly familiar to our world, but with supernatural tactics and weapons.
The series stars Jessica Sutton, Taylor Hickson, Ashley Nicole Williams, Amalia Holm, Lyne Renee, and Demetria McKinney.
If you missed it, just last week it was announced that another Freeform series will not be returning…
Like Just Jared Jr. on FB