Wed, 25 August 2021 at 12:49 pm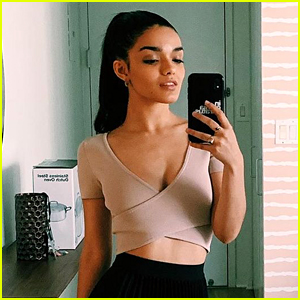 Rachel Zegler is opening up about her upcoming film West Side Story!
The 20-year-old actress will be making her film debut as Maria in the highly-anticipated remake of the classic movie, and she dished on what makes this new version different and how she relates to her character.
Click inside to read more…
"We're not trying to recreate, frame for frame, the 1961 film. That film exists as this incredible piece of pop culture that everyone has seen and been affected by in some way. I don't think any of us would ever try to recreate that. There are things to improve on and things to address. It's such a cultural phenomenon, that film and the musical in general," Rachel told Town & Country.
"I think the way Steven [Spielberg] and Tony [Kushner] framed it to all of us when we were auditioning, when we were rehearsing, when we were shooting, was, 'We are making a movie of the original Broadway musical. This is our take on a story that everyone has heard, and knows so well, and really loves,'" she added.
She added about her interpretation of Maria, "Every Juliet-based character is pure and innocent. She's the Virgin Mary, and she can do no wrong. But in reality she's 18. She's discovering so much about herself and the way she thinks about the world. What does it mean to bean 18-year-old discovering all of these things about herself in 2019—or in 1957, which is when West Side Story takes place? There are layers of being an immigrant: How long has she been here? How long does she plan to stay? She plans to stay forever. Does Bernardo want her here?"
VIDEO: Check out the latest teaser for West Side Story here!
For more from Rachel, head to TownAndCountryMag.com.
Also coming up for Rachel is two more huge roles – Shazam: Fury of the Gods and the live action Snow White.
Like Just Jared Jr. on FB