Wed, 25 August 2021 at 4:36 pm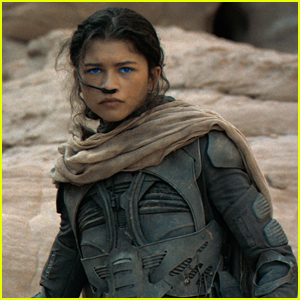 Zendaya is opening up about filming her upcoming movie Dune!
The 24-year-old actress is one of many big names that are starring in the new film, where she portrays the character Chani.
While many have said that she only has a very small role in the film, she just revealed how long she was actually on the set…
Find out what she revealed inside…
"[Director Denis Villeneuve is] so kind and attentive to all of his actors. I was only there for four days and I did not want to leave!" she told Empire. "Denis understands what he wants from us but he's also very collaborative, allowing me to have my take on the character as well. I don't want to jinx anything but I can't wait to explore her more. I hope I get to learn more from Denis. I love to learn from people who are great at their job."
Zendaya also opened up about her character and just how small her part is.
"My part is very, very small in this movie and that's why I'm so excited to see it, to see what everyone's been up to. [Denis and I] had a little discussion about who Chani is and the strength she possesses," she shared. "She's a fighter, that's what her people are. I only really had a few days with her, so I kind of scratched the surface but it was so much fun figuring her out. What does she walk like, what does she talk like? This is her planet, so how does she navigate this world? It was so fun."
Dune is reportedly set to be split into two parts, but the second has not been officially announced yet. Though Zendaya's role in the first movie is very small, she could very well become the main character in the next movie!
"I can't wait to shoot the second part of Dune to get [Timothée Chalamet and Zendaya] back together. Knowing that in the next chapter Zendaya will be [a major part] of the story," director Denis Villeneuve said in a recent issue of Il Venerdì di Repubblica, via twitter account @DuneInfo.
If you missed it, earlier this year Zendaya opened up about having dance parties on set with Timothee Chalamet!
Dune is set to premiere in theaters and on HBO Max on October 22nd. Check out the latest trailer here!
Like Just Jared Jr. on FB