Fri, 27 August 2021 at 1:39 pm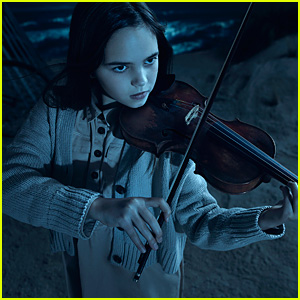 We're getting to know more about young, shining star Ryan Kiera Armstrong!
The young actress already has quite the resume, and you can now see her in the new season of American Horror Story, which just premiered this week on FX.
Ryan stars as Alma Gardner in AHS: Double Feature, the daughter of Harry and Doris, played by AHS fixtures Finn Wittrock and Lily Rabe.
In this season, a struggling writer, his pregnant wife, and their daughter move to an isolated beach town for the winter. As they settle in, the town's true residents make themselves known.
Learn more about Ryan Kiera Armstrong inside…
Ryan has previously starred in Anne With an E as Minnie May Barry, as Zoe in The Art of Racing in the Rain, and just recently as Young Antonia in Black Widow and as Young Muri Forester in The Tomorrow War.
She also recently wrapped filming on the Blumhouse reboot of Firestarter, where she will play Charlie, the role originally played by Drew Barrymore!
JJJ got to know more about Ryan Kiera Armstrong on a personal level with 10 Fun Facts. Check them out below:
1. I HAD TO PLAY VIOLIN FOR TWO DIFFERENT TELEVISION SHOWS. One of my characters had to play the violin really badly (Anne with an E) and the other character was a prodigy (American Horror Story: Double Feature). For this role, production commissioned weekly training for one year before I began filming – it was incredibly stressful. I did NOT continue violin when we finished filming…
2. I LOVE SUSHI, but having lived a significant part of my life in CA, I have been spoiled with exceptional fish. If I were to have access to only one restaurant for the rest of my life, it would be SUGAR FISH. Daily access to a Mango Passionfruit Lemonade from Starbucks would also be mandatory.
3. I love sports and other physical activities including horseback riding, soccer, dance and ping pong. Because I am double jointed, I can also touch the tips of my toes to my forehead in a reverse arch.
4. Working in Film + TV has enabled me to travel all over North America and see many extraordinary States and Provinces including California, Georgia, Montana, Massachusetts, British Columbia, Ontario and Quebec. Because of that, I view every job as a new adventure. I truly feel like I am a different person in different environments, and I like to build and work from that place of inspiration.
5. I am a dog person, NOT a cat person. My first and only dog passed when I was 4 years old. Her name was Pandara and she was a Bernese Mountain Dog. Pandara was the first Bernese Mountain Dog ever sold in Manhattan and she lived to be 12 years old. Though her passing broke my heart, If I ever get another dog, it is likely to be a Berner.
6. I was born in Manhattan, New York at the Beth Israel Hospital on March 10th, 2010, but because my mother is Canadian, I also have dual citizenship. My family heritage is predominantly Irish and Croatian. I am the youngest of five and the 3rd girl in my family. My other two sisters, as well as my mother, are dentists. Despite that, my teeth are far from perfect!
7. I started acting when I was 5 years old. My dad is also an actor and the only one in my family other than myself who chose a career in the arts. My father was in the cast of Rent on Broadway and owns a film and tv training Studio for actors in Toronto called Armstrong Acting Studios. My first set experience was when I was 4 days old on SAW 3D. The producers gave my dad a basket of gifts that in perfect SAW fashion included damaged toys, including a teddy bear with one of its eyes hanging out.
8. I LOVE ACTING but also aspire to one day be a director. My favorite movie is THE DEPARTED and my favorite actor is Leonardo DiCaprio. It is my dream to work with both Leo and Martin Scorsese. I think we would make a great team. ;)
9. My favorite past time activities include biking, swimming and piano, but I especially like photography and drawing. In fact, my original artwork has been used on multiple sets including the movie Firestarter. One of my favorite things to draw are eyes as I am fascinated with their connection to thoughts and storytelling.
10. If and when my schedule affords any downtime, my favorite place in the WORLD to unwind is at our log cabin on Lake Huron, Ontario with my friends. Because of the pandemic, I spent more time at our cabin in 2020 than I had over the course of my entire life. My father built the cabin the year I was born and one of my favorite highlights is the 3-story tree that was craned into the structure before the roof was assembled. I love the tree because it brings the outside indoors. When I was 4 years old, I embarrassingly asked my dad why the log cabin was called a log cabin!
Like Just Jared Jr. on FB