Fri, 27 August 2021 at 7:28 pm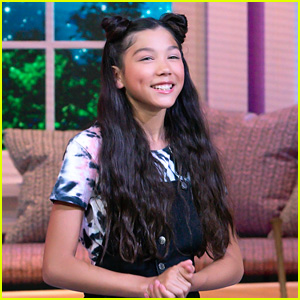 Txunamy Ortiz is hosting Disney Princess Remixed – An Ultimate Princess Celebration TONIGHT (August 27)!
The 12-year-old entertainer is hosting/narrating the special on Disney Channel, which celebrates the empowering attributes of Disney princesses and
queens through reimagined performances of their iconic songs.
The half-hour special features performances from Disney stars Dara Renee, Izabela Rose, Ruth Righi, Julia Lester, Sophia Hammons and Frankie Rodriguez.
Click inside to read more…
Songs that get are getting a remix are "Into the Unknown" from Frozen 2, "Home" from Beauty and the Beast, "Almost There" from Princess and the Frog and "Part of Your World" from The Little Mermaid.
Tune in to Disney Princess Remixed – An Ultimate Princess Celebration TONIGHT (August 27) at 7:30pm ET/PT on Disney Channel, or catch it on Disney+.
JJJ spoke to Txunamy about the special with an exclusive mini interview. Check it out below!
Just Jared Jr: What was it like filming the Disney Princess Remix special?
Txunamy Ortiz: It was wonderful! It felt like I was in a dream with all of the amazing effects they had. I have grown up watching Disney Channel and hearing Disney songs, and now to be a part of it is so exciting.
JJJ: How fun was it on set?
TO: It was super fun! It felt like another world, and everyone on set was so nice and made me feel like a star.
JJJ: How important is it to celebrate courage and kindness in others?
TO: This is very important to me as my main thing is kindness! Even in my bio, I have this famous quote from a Selena Gomez song "Kill 'Em With Kindness." I think kindness takes you far in life! And you never know what someone might be going through, so no matter what, you should always ALWAYS be kind to everyone!
JJJ: How long have you been watching Disney Channel and what are some of your favorite shows?
TO: I have been watching Disney Channel since I was five! My mom grew up watching Wizards of Waverly Place and Hannah Montana so when I was old enough, I asked her if I can watch those two shows since they were my mom's favorite. After watching those two shows, I got hooked! Some of my current favorite shows are Bunk'd, Jessie and K.C. Undercover.
In case you missed it, check out the trailer for another one of Txunamy's projects!
Like Just Jared Jr. on FB