Mon, 30 August 2021 at 7:43 pm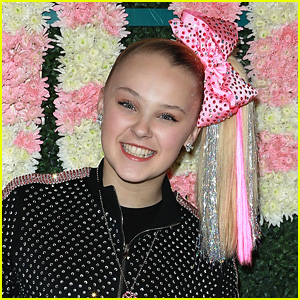 JoJo Siwa is about to start rehearsals for the upcoming season of Dancing With The Stars!
The 18-year-old entertainer will not only compete for the mirror ball trophy, but she's also making history for the franchise.
JoJo is set to be the first contestant with a same-sex dance partner!
The entertainer, who has a competitive dance background, just shared that it's actually going to come as a bit of a disadvantage for her on the show…
Click inside for more…
"I'm not gonna hide that I'm a dancer. I was a dancer my whole life," JoJo said while co-hosting Entertainment Tonight on Monday (August 30). "Am I very out of practice? Absolutely. I perform all the time, but it's different, you know? I don't have to strengthen my legs, and ballroom is different. I've never taken ballroom."
"It's gonna help me in a way, but it also is a disadvantage," she added. "Because I guarantee you the judges are one hundred million percent gonna judge me harder than they do everybody else."
JoJo also shared what it was like getting the email asking whether she wanted a male or female dance partner.
"When I read the email it was like, 'Would JoJo prefer to dance with a girl or with a boy?' And I was like, 'Wait, that's an option? Let's absolutely do it!'" she said. "It was a like, 'Whoa, I'm changing the future' [moment], because I have such a kid demographic. It's making it acceptable, and I love that and I'm so proud of that."
JoJo is meeting her partner and starting dance rehearsals TOMORROW (August 31). We can't wait to see which pro she gets paired up with!
She's previously said her favorites are Britt Stewart, Lindsay Arnold and Jenna Johnson.
Dancing With The Stars premieres Monday, September 20nd!
Like Just Jared Jr. on FB