Tue, 31 August 2021 at 2:49 pm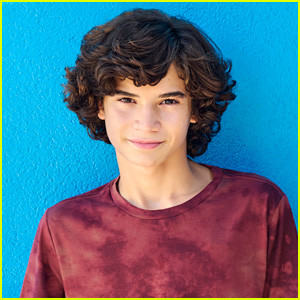 Alex J. Montero is breaking onto the acting scene!
The young actor has made his debut in the new movie The Kid Who Only Hit Homers, which is out now on Amazon Prime Video.
Alex stars as the title character, Sylvester "Syl" Coddmeyer III, in the film, which is based on the bestselling sports series by Matt Christopher.
Click inside to find out more…
In The Kid Who Only Hit Homers, Sylvester "Syl" Coddmeyer III, a young teen who eats, sleeps, and breathes baseball. The only problem is that he isn't very good at playing the sport. His dad played ball in the minors and Syl wants nothing more than to make him, and his teammates proud.
But once the spirit of Babe Ruth appears, Syl seems to be suddenly able to unlock his own potential and quickly becomes the star he always dreamt of being. Check out the trailer below!
As someone who is new to acting, we are getting to know more about Alex with 10 Fun Facts. Check 'em out below:
1. I love to sing. In fact, on a family trip to Quebec, Canada, my sister offered me money if I could just stop singing for two hours. Suffice to say, it was sheer torture and I didn't make a dime. I also will break out into a song reference during any given situation.
2. I was born and raised in Miami, Florida. I have an older sister who is wicked smart and an amazing athlete. I can always count on her to give me love, support, and an excessive amount of constructive criticism. Although my parents only have one sibling each, my family is pretty big. I have 12 first cousins. Family is everything to us, and our gatherings are always a lot of fun. My grandparents are Cuban. I was fortunate enough to visit Cuba when I was 9 years old. I absolutely loved being able to see where my grandparents were born and raised.
3. My favorite actor is Robert Downey Jr. My favorite film of his is Iron Man. I love all the Marvel movies and my favorite series is WandaVision.
4. I love scuba diving, wakeboarding, and kneeboarding. One of the perks of living in Florida is that the ocean is so accessible. My family and I have spent many summer days out on the water, where I practice my water sports.
5. At the callback for The Kid Who Only Hit Homers, not only did I have a chemistry read I also had to demonstrate that I could catch and pitch a Wiffle ball. When I finished the callback I was able to keep the Wiffle ball. I really wanted the part of Sylvester "Syl" Coddmeyer III. For good luck, I slept with the Wiffle ball underneath my pillow until I got a call from my agent saying that I booked the role.
6. I am obsessed with cars. If I could I would start a car collection. But at the very least, I hope to be able to own an Audi R8 one day.
7. I attend a musical theater magnet school. I have loved the theater ever since I can remember. My obsession in first grade was Les Misérables. My father would play the soundtrack as he drove me to school. I explained to my classmates what the lyrics were all about and we would reenact the French Revolution daily in the playground during recess. My dream is to one day play the role of Javert.
8. My family and I love animals! I have two dogs. My dog's name is Dixon and my sister's is Argo. Dixon is a rescue German Shepherd mix and the smartest dog ever. I also have a pet rabbit named Nugget and a saltwater fish tank, with some really cool fish. During quarantine, my family and I raised 10 hens. My favorite is the hen I named Hen-Solo.
9. During the pandemic I took to a new hobby. I discovered the art of stop motion filmmaking. I spent many hours making and editing my own films. I shared my films with my younger cousins and they started making their own films. Making these films not only let me be imaginative and creative during quarantine, but it also became a way for me to bond with my cousins at a time when we couldn't really hang out.
10. I love science. If I don't pursue acting, I would like to become a doctor. But, perhaps even better would be to play a doctor on a hit TV series.
Like Just Jared Jr. on FB