Mon, 06 September 2021 at 3:56 pm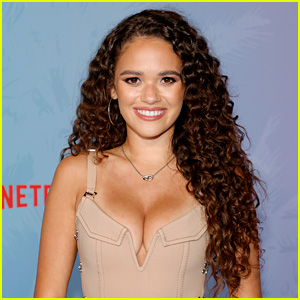 Madison Pettis has been growing up before our eyes since her breakout roles in Disney's The Game Plan and Cory In The House in 2007.
The now 23-year-old was most recently seen in He's All That and opened up about taking on more grown up roles.
See what she said…
"I never wanted to just hit people over the head with it and be like, 'I'm not a little girl anymore,'" Madison recently shared with Teen Vogue.
"People always made jokes. It was like, 'You're my entire childhood.' And then, slowly as I've gotten older and done more mature roles, been a little sexier, people are like, 'Oh my god, you're ruining my childhood,'" she continued. "I'm like, you have to get with the progression. I'm the same age as you now. Right? Like, we were both eight and now we're 23."
"It's just fun for people to view these projects," Madison added. "I've worked consistently since I was a child, but if you haven't seen anything since then, it's like, 'Oh, my God.' I try to pick projects that I'm just passionate about that bring something different, something I've never played before."
One of her next projects is the horror Margaux, which also features a couple of stars from The CW!
Madison also opened up about being a brand ambassador for Rihanna's Savage x Fenty.
"They just make all women and anyone who wants to wear the clothes feel super sexy in their skin, and I just really wanted to be part of it," she told Teen Vogue. "It's really fun getting into it with a brand that you just already loved, and that's owned by your icon Rihanna."
Like Just Jared Jr. on FB