Mon, 06 September 2021 at 8:11 pm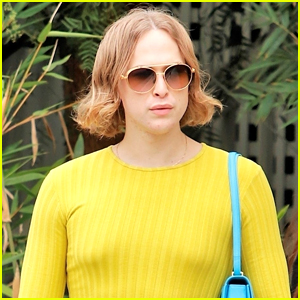 Tommy Dorfman has opened up a bit more about her transition.
Back in July, the 29-year-old reintroduced herself to the world as a trans woman, and she recently shared more about her transition and journey.
Find out what she shared inside…
"Whenever I close my eyes or dream, I see myself as a woman. That was always the case. A trans elder asked me what I see myself as when I'm older, when I'm 60, 70, 90. It was so clear, I just saw Cate Blanchett," she told InStyle with a laugh. "But I really couldn't imagine not being a mother or a grandmother. My spirit was so attuned to whatever it means to be a woman. I've walked in the privilege of a male body, but [being a woman] is all I've known on the inside. Trans women would clock me all the time and be like, 'Hey, girl, what's up?' because it's sort of a thing you recognize."
She also opened up about transitioning medically.
"There are so many ways you can do it. I only take hormones. I just switched my hormones, and I've never felt better in my life. I spent 28 years of my life suicidal and depressed and recovering from alcoholism and drug addiction," Tommy said. "I don't think I've ever been genuinely happy until this past year. I look at the Internet chronicle of photos of me since I started working, and I can see how fucking unhappy I was in every photo. It's wild."
Tommy shared that she tries to be compassionate and understanding when people get her pronouns wrong.
"I try to come from a place of compassion and understanding — especially for people who have known me for years and have used certain pronouns for me. It's baked into their brains. But it's the best when people self-correct — that's always so meaningful," she told the mag. "Sometimes people get embarrassed and then angry at you for correcting them. They get defensive like, 'I'm trying!' That's fine; I'm not trying to attack you. But if you could correct yourself in the moment, that would be helpful. Maybe it's a matter of slowing down in general."
Like Just Jared Jr. on FB