Wed, 08 September 2021 at 1:37 pm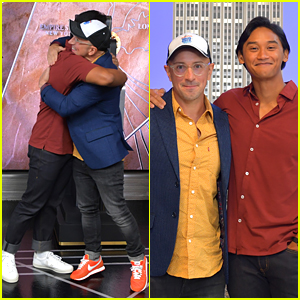 WARNING! This post will make you VERY emotional!!
Current host Josh Dela Cruz and original host Steve Burns celebrate the 25th Anniversary of the hit Nick Jr series Blue's Clues at the Empire State Building on Wednesday (September 8) in New York City.
The guys took quite a few cute photos, and even shared a hug in one, and a high five in another!
Josh and Steve's appearance together comes just one day after Nick Jr shared a VERY emotional video from Steve, dressed in his Blue's Clues green striped shirt.
Click inside to watch the video and see what he said…
In the video, Steve shared an update on life and how he's never stopped thinking about Blue's Clues fans.
"You remember how when we were younger we used to run around and hang out with Blue, and find clues, and talk to Mr. Salt, and freak out about the mail, and do all the fun stuff? And then one day, I was like, 'Oh hey, guess what? Big news… I'm leaving,'" Steve said.
"Look at all you have done and all you have accomplished in all that time," he added. "And it's just… it's just so amazing, right? I mean, we started out with clues and now it's what? Student loans, and jobs, and families, and some of that has been kind of hard, you know? I know you know."
The most emotional part of all came at the end, when Steve said, "I guess I just wanted to say that after all these years I never forgot you. Ever. And I'm super glad we're still friends."
In case you missed the big news, a Blue's Clues & You movie is coming!
Like Just Jared Jr. on FB