Thu, 09 September 2021 at 4:26 pm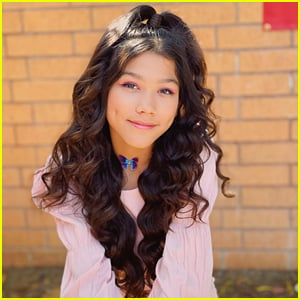 Txunamy Ortiz is definitely a young star on the rise!
The 12-year-old currently stars as Brittany on the Brat TV series Mani, which just released a new episode on Thursday (September 9).
In the new ep, "Gwen Golden Music," still stuck in the wrong body, Brittany and Mani have to keep up appearances. Paige shoots her shot with Chris.
If you don't know, Mani just launched it's sixth season and follows Brittany, who has been dreaming about her big 13th birthday bash all-year, but a wish-upon-a-star gone awry leads to a chaotic body swap with her goofy teacher, Mani.
While Mani and Brittany seek out a solution to their strange situation before her birthday party, the two must learn how to see the world from a whole new perspective and what it really means to walk in another's shoes.
If you missed it, Txunamy also recently hosted the Disney Princess Remixed special, which is available on Disney+ now.
JJJ got to know more about Txunamy Ortiz with our exclusive 10 Fun Facts feature. Get to know her inside…
Check out her 10 Fun Facts below…
1. I'm a lefty.
2. I'm a vegetarian.
3. I don't like eggs.
4. I can crochet.
5. I like to draw.
6. I play the piano.
7. I'm a book worm.
8. My nickname is Txu.
9. I can box.
10. I don't like candy.
Like Just Jared Jr. on FB