Tue, 14 September 2021 at 6:14 pm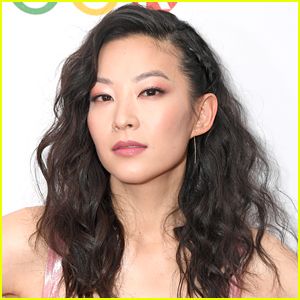 Arden Cho will be starring in a new Netflix series!
The former Teen Wolf actress has been cast in Partner Track on the streamer, based on Helen Wan's 2013 novel "The Partner Track: A Novel," Deadline reports.
"Ahhhh can't believe I can FINALLY SHARE THE GOOD NEWS! ✨ Can't wait for y'all to meet Ingrid Yun! I'm so honored. The last month has been an absolute dream. LOVE the cast & team, y'all in for a treat!!!! 🤩 Lets go @netflix!!! Who else is excited?" Arden wrote on Instagram with the news.
Click inside to get more info and see who else is in the cast…
In the series, Ingrid Yun (Cho), is an idealistic young lawyer, struggles with her moral compass and her passions as she fights to climb the partner track at an elite New York City law firm.
Dominic Sherwood, Nolan Gerard Funk, Alexandra Turschen, Bradley Gibson, Rob Heaps and Matthew Rauch will also star.
Julie Ann Robinson, who directed two episodes of Bridgerton, will be directing the first two episodes. Filming is set to take place in New York.
Get more info on each character below…
Arden Cho - Ingrid Yun. She is a "whip-smart, fierce, kind, and eager to be the first Asian-American junior partner at Parsons Valentine, an elite white-shoe law firm in Manhattan. As Ingrid bargains and fights her way through these male power structures, she wrestles with what it means to be true to herself."
Bradley Gibson – Tyler Robinson, who is a "star litigator at Parsons Valentine. Moral, righteous, and level-headed, Tyler is as fabulous in spirit as he is in a suit. Tyler questions his career, his lifestyle, and his love life as he learns what he can and can't stand for in this cutthroat world."
Alexandra Turschen – Rachel Friedman, described as "a woman of hedonistic tendencies with a quick mouth. Matter of fact, perceptive, and witty, Rachel makes an incredible litigator and lover. She's the life of the party that soon realizes her aspirations do not lie with the law, much to the disappointment of her family, lawyer father, and worst of all, herself."
Dominic Sherwood – Jeff Murphy. "With his smooth English accent and even smoother charm, Murphy can talk his way in or out of anything. A mysterious, lateral transfer from Parsons Valentine London, Murphy works to prove himself in New York so that he's on track for junior partner."
Rob Heaps – Nick Laren, who is "the most eligible bachelor in NYC and heir to one of the largest venture capital firms in the world, Nick Laren is the city's high society sweetheart."
Nolan Gerard Funk – Dan Fallon. "Silver spoon in mouth, gold napkin in hand, knows which fork to use on cue; Dan is the epitome of privilege and knows it.
Matthew Rauch – Marty Adler is the "top M&A managing partner at Parsons Valentine, Marty is surgical, sharp, and ruthless. He always knows what needs to be done in order to get to the best bottom line for his client, moral or not."
Like Just Jared Jr. on FB