Thu, 16 September 2021 at 2:27 pm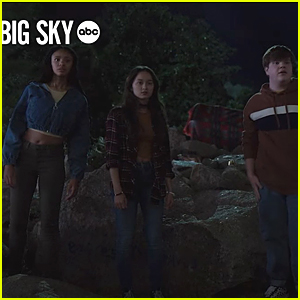 The season two trailer for Big Sky is here!
In the trailer, fans of the show are introduced to four new, young characters and we have the details on who the actors are and more about their characters.
Season one featured Jade Pettyjohn and Natalie Alyn Lind, but the upcoming season of course has different cases to solve with almost a whole new set of people.
Keep reading to watch the trailer and learn more…
In season two, when private detectives Cassie Dewell (Kylie Bunbury) and Jenny Hoyt (Katheryn Winnick) reunite to investigate a car wreck outside of Helena, Montana, they soon discover that the case may not be as straightforward as it seems. As they unravel the mystery of the accident, their worlds will collide with a band of unsuspecting teens, a flirtatious face from Jenny's past, and a vicious outsider hellbent on finding answers.
Season two of Big Sky premieres on Thursday, September 30th at 10:01pm ET/PT.
The "band of unsuspecting teens" will be played by Troy Johnson, Lola Reid, Madelyn Kientz and Jeremy Ray Taylor in recurring roles.
Check out the trailer and learn more about their characters below…
Madelyn Kientz will play Max, "Cassie's teenage babysitter, who uses her quiet cool and sarcastic wit to navigate the stormy waters of adolescence. Her close group of friends is a welcome solace from her complicated home life. However, the teens' bonds will be tested when they witness an unspeakable crime," according to Deadline.
Troy Johnson portrays Harper, "Max's brazenly confident, daring and opportunistic best friend. Harper works after school at her father's struggling local diner. When she discovers an illicit way out of her difficult circumstances, her and Max's relationship will be put on edge."
Lola Reid is Madison, "the third musketeer to Max and Harper and the "baby sister" to Bridger, but that doesn't stop her from throwing her sibling weight around. Taking after her lawyer parents, she's the most rational and pragmatic friend in the group. Madison's composure will be pushed to its breaking point as her friends and family are thrown into danger."
Jeremy Ray Taylor plays Bridger, "Madison's precocious older brother. He's close with his sister, who often has to rein in his impulsivity. Bridger lands himself in trouble when he tries to take the teens' precarious situation into his own hands."
Like Just Jared Jr. on FB