Thu, 16 September 2021 at 1:58 pm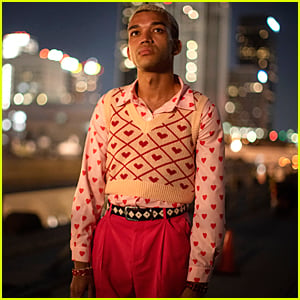 Earlier this week, it was sadly announced that the HBO Max series genera+ion was not getting a second season, leaving the season one cliffhangers unanswered.
In a new essay, the young co-creator Zelda Barnz opens up about what could have happened if the show was renewed, including finding out who was on the rooftop with Chester in the very final scene of season one…
Find out inside…
"I wish I had a straight answer, and I'm sorry I don't have any certainty on the matter, but I think I can answer this question in another way," Zelda shared with EW.
Though the who wasn't yet picked out, Zelda shared the possible characters it could've been, which included some of the fans' speculation.
"The cast and crew and writers and producers of Generation all had many conversations about this scene, about who should be the "you" in question. There was also a lot of speculation from fans. Some thought it should be Riley (Chase Sui Wonders), some thought Nathan (Uly Schlesinger) after their tumultuous finale arc. Or Bo (Marwan Salama), who genuinely loves Chester (Justice Smith), and wants so much to figure it out," she shared.
"Some people thought it should be Sam (Nathan Stewart-Jarrett), because of the phone call, and because Sam has received a photo of this location before (via email, in the pilot). Justice once said it could be Chester's missing father. One producer thought the entirety of the GSA should show up, in a scene emphasizing the concept of chosen family. A fan once asked me if it was the ghost of Chester's mother."
"Personally, I always thought it should be J (Sydney Mae Diaz). Partially for logistical reasons, because no other character had actually been to that spot before," Zelda continued. "But also because, in my opinion, no other character was quite as intuitive. J witnessed Chester's breakdown over the course of the night, and he knows how Chester's mind works when he's upset. I don't think any other character could both pinpoint exactly where Chester would go, and then follow him there. I think J showing up would've been really cool."
Zelda did share that although the show is not coming back, she's glad it got to end on a "moment of joy."
"I'm very proud to end this show with a moment of joy. Unexplained joy, maybe, but does joy ever require justification? I don't think it does. I don't think it should. What matters about this scene is not who shows up (the unresolved mystery is a bit of theater, the 'click next' moment that all streaming services ask their writers to provide), but that someone shows up. Someone shows up for this unapologetically queer boy in a moment of vulnerability. Someone shows up for him when he needs them, and he's able to smile, and he's able to say 'it's you.' And we know he's not alone on that rooftop," Zelda said.
"So really, there is no mystery. Maybe it's Sam or Riley or J or maybe it's a hallucination or maybe it's a character we haven't met yet, but it doesn't really matter in the end. It's whoever Chester needed most in that moment. There is closure in knowing that person found their way to him, whoever they may be."
See more season two what could have beens on EW.com!
Like Just Jared Jr. on FB