Fri, 17 September 2021 at 7:32 pm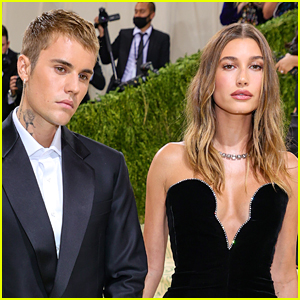 Hailey Bieber is opening up about how she deals with the hate that gets thrown her way, for being in a relationship with Justin Bieber.
The 24-year-old model shared how she stays resilient while being married to someone who is a very notable public figure and squashes a big rumor about them.
Click inside to read more…
"I can only imagine what you've had to deal with dating, and then marrying, Justin, who's in a very public position. Where do you find your resilience? How do you keep yourself going when people are attacking you or just saying mean things?" Demi Lovato asks on their 4D podcast.
"I think one of the biggest things is you have to know what the truth is behind everything. You know, there's so many narratives that float around about me, about him, about us together," Hailey responds.
"There's one big fat narrative that goes around that's like, 'Justin is not nice to her and he mistreats her.' And I'm just like, it's so far from the truth and it's the complete and utter opposite," she continued. "I really am lucky to say I'm with someone who is extremely respectful of me. Who makes me feel special every single day, and so when I see the opposite of that, I'm just like huh. Because it's just, and everybody around who knows us personally would say the same thing."
"So I'm just like at the end of the day, when there's rumors… and that's why I love that Lizzo song that's out right now, which is like, 'Oh, the rumors are true.' I'm like, you know what, you're right. All the rumors are true, baby," Hailey said. "It's just, you have to be able to fight all the lies and all the bullsh-t that people come up with, with what is actually the truth."
"So if the lie is they're miserable in their relationship, it's like, well, the truth is that we've literally never been more obsessed with each other and we have so much fun together, and you have to surround yourself with people, I think, that remind you of that too."
Check out the full interview below!
Like Just Jared Jr. on FB