Fri, 17 September 2021 at 1:00 pm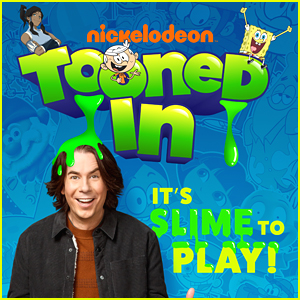 Tooned In is back for a second season TONIGHT (September 17) and with a new co-host!
iCarly star Jerry Trainor has joined the Nickelodeon game show to serve as co-host alongside the animated A.I. supercomputer, Nicky (voiced by Rama Vallury).
In the series, contestants are put to the test to prove their animation knowledge, with three kids competing in rounds of trivia for a chance to be declared the episode's big winner.
Ahead of the season two premiere later tonight, we have an exclusive clip from the all-new episode!
Click inside to watch and find out more…
On Tooned In, Jerry and an animated A.I. robot, Nicky, co-host a messy and slime-filled gameshow where kid contestants must compete in a battle of Nickelodeon cartoon knowledge for the chance to be named the night's big winner and take home a cash prize of up to $1,000.
Each episode features three kids who are tasked with solving animation questions across rounds of trivia until only one contestant is left in the competition.
The final kid will then move on to a special round where they must compete against Nicky and climb the robot's motherboard to be declared the episode's winner.
Check out an exclusive sneak peek below and be sure to tune in to Tooned In TONIGHT (September 17) at 8:30pm ET/PT on Nickelodeon!!
Like Just Jared Jr. on FB