Mon, 20 September 2021 at 12:59 pm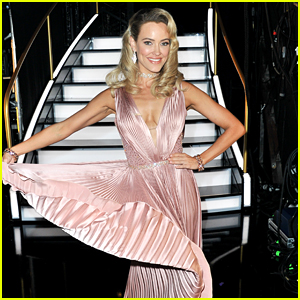 Longtime pro-dancer Peta Murgatroyd will noticeably be absent from Dancing With The Stars this season!
The 35-year-old two-time winner has been on the show since 2011 and has served as one of the pros since season 13.
Though Peta will not be hitting the ballroom floor on the season 30 premiere TONIGHT (September 20), this isn't the first time she has missed a season!
Click inside to read more…
Other seasons she has not competed in are seasons 21, 23, 26 and 27.
After the pros were announced earlier this month and Peta's name was not on the list, she took to her Instagram to explain why she won't be on the season.
"To my Dancing With the Stars Fam… As many of you know, after 10 years with @dancingabc, I will not be returning for Season 30. While I will miss being a part of the show, I'm excited to continue to focus on other projects and my business endeavors, along with spending quality time with family," she wrote on her account.
"Since moving to Los Angeles in 2010, DWTS has been a special part of my career. I've earned a living as a dancer and entertainer since I was 17, and have created a life for myself in another country that I'm now a proud citizen of. Although I am now stepping back from the show, I still love dance and will always keep dancing (I still feel 25 😏 haha). I'm working on some new projects I know you will love, so this is certaintly not a goodbye! ❤️"
"While it was hard to narrow down my favorites 😬, here is a compilation of some truly joyful times on DWTS. I will hold onto these memories (so tight) for the rest of my life. I cried and cried rewatching all of these as I relived what I was feeling in those exact moments. It's crazy how your body can still remember those nerves, that adrenaline and those thoughts before, during and after the dances. I remember the universe telling me I was winning both times. I remember the long, tiring nights throughout Donald's season. I remember all the naps and morning sickness through Nyles'. Dancing nine weeks pregnant was WILD. What a ride. What an experience I get to tell my children and grandchildren. What a gift I was given for the last 10 years of my life. 🙏🏻"
"I am overwhelmed by the love and support I have received from my fans over the past 10 years. Since this announcement was made, my inbox has been flooded and I wish I could respond to every single one of you to thank you. I love and appreciate you all so much. 🥰 To the pros, I love you all! Although I won't be on the dance floor with you this season, I am lucky to consider you part of my family outside of dance. I will be proudly cheering you all on from a distance! Smash this season and have the BEST TIME EVER! 🕺💃💕 Love, Peta," she concluded.
Peta's husband, fellow pro-dancer Maksim Chmerkovskiy commented, "Absolute legend! One of a kind! Irreplaceable! You've left a mark on the show, your way, and I am proud of every second you've contributed to the success of dance on television. You've EARNED your spot the right way and you kept it the same way you've earned it 👏🏻👏🏻👏🏻 You WILL be missed, but I can't wait for you to truly SHINE and I will always be your number one fan ❤️"
Be sure to see which other fan-favorites have been let go from Dancing With The Stars over the years!
Like Just Jared Jr. on FB