Tue, 28 September 2021 at 3:27 am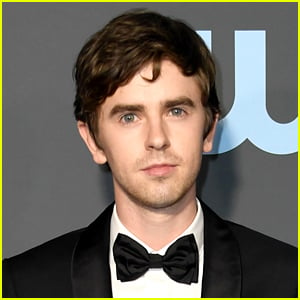 Fans probably thought that Freddie Highmore's The Good Doctor character Dr. Shaun Murphy was going to get married on the season premiere, but the actor actually got married in real life!
The 29-year-old actor revealed the happy news while doing an interview on Jimmy Kimmel Live on Monday night (September 27) in Los Angeles.
Click inside to find out what Freddie Highmore said about being married…
During the interview, Jimmy said to him, "I'm looking at your wedding right now. That's a wedding ring, yes?"
Freddie confirmed and said, "Yes, it is a wedding ring. Yes, I got married. It's funny ever since I've been wearing this ring people have been asking me if I'm married, so I figured, I should clarify it."
Freddie then threw some shade at Tom Cruise and the time he exclaimed his love for Katie Holmes by jumping up and down on the couch on The Oprah Winfrey Show.
"But yes, I'm not gonna jump up and down on the couch on the talk show and express my excitement that way. I know that you do that in America. But I'm as happy as as a Brit can be and I'm married to a very wonderful woman now, so yes I feel very happy," Freddie said. He also confirmed his wife is a Brit, but he didn't reveal her identity.
"I just still can't get over the terminology and the vocab, like a 'married man' just sounds very old and 'my wife' sounds very possessive," Freddie added. "We don't really use that yet, but we just point to the rings and be like, 'Here, look, draw your own conclusions."
Jimmy asked Freddie if his wife is allowed to say "my husband" and he replied saying, "That sounds a little bit better. It's just the 'my wife.'"
Jimmy then told Freddie that he's going to have to "loosen up" and the actor said, "It's still early days. Thank you for the tips!
Make sure to also see Freddie's last in-studio appearance on Kimmel, right before the pandemic hit Ameica.
Like Just Jared Jr. on FB