Fri, 01 October 2021 at 9:22 pm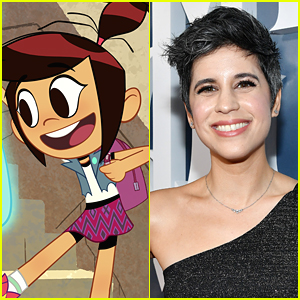 The Ghost and Molly McGee is premiering on Disney Channel TONIGHT (October 1)!
The new animated series follows tween optimist Molly, who lives to make the world a better place, and grumpy ghost Scratch, whose job is to spread misery. When one of Scratch's curses backfires, he finds himself forever bound to Molly.
If you didn't know, voice actress Ashly Burch, who stars as Molly, recently revealed what ethnicity the character is, which they have in common.
Click inside to read more…
Molly's ethnicity is half Thai and half American, just like Ashly is in real life. The creators of the show actually based Molly's background off of Ashly!
"I didn't realize actually that they were going to base Molly off of me I think until I got cast," Ashly told The Nerds of Color. "Bill [Motz] and Bob [Roth] had always had the plan of whoever they cast as Molly that they would model her heritage off of the actor. So when they told me that Molly was going to be half Thai, it was a really cool meaningful experience because I can't think of a single Thai character in anything that I watched when I was a kid."
Molly's Thai culture is also included in the stories and subplots, which will also see a storyline about Molly beinf confused on what it means to be biracial and the feeling of not "being Thai enough."
"I don't think I realized just how meaningful it would be until I started doing it," Ashly added. "I was used to relating to characters that were either white or other types of Asian. I've never gotten to play a Thai character, so it's been such a great experience and it's so cool to see things that I grew up with, or that my mother used to do being showcased in this show."
The Ghost and Molly McGee premieres on Disney Channel TONIGHT (October 1) at 9:35pm ET/PT. It's even already been renewed for a second season!
If you missed it, get to know Ashly's co-star Dana Snyder, who voices the grumpy ghost Scratch!
Like Just Jared Jr. on FB