Mon, 11 October 2021 at 2:42 pm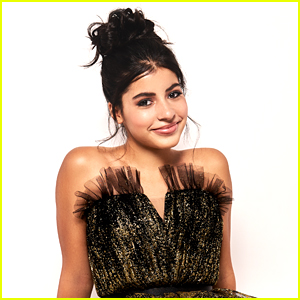 Meet Kyndra Sanchez!
The young actress is a new face on season two of The Baby-Sitters Club and we are getting to know more about her and introducing her to fans of the Netflix series.
Kyndra is taking on the role of Dawn Schafer, a strong Latina girl who is an activist for the environment and wants to make a difference. If you didn't know, Xochitl Gomez originally played the role in season one, but had to exit the show due to scheduling conflicts with the upcoming Doctor Strange movie.
Learn more about Kyndra Sanchez inside…
Prior to The Baby-Sitters Club, Kyndra has lent her voice to roles in Nickelodeon's Butterbean's Cafe, Santiago of the Seas and Dora and Friends: Into the City. She was also in the Netflix movie Finding 'Ohana and has appeared on Sesame Street!
Outside of acting, Kyndra is also an athlete, and trains for competitive gymnastics, is on her school's varsity cross country team and is even active in swimming, dodgeball, surfing, bicycling and dance.
Kyndra even has a passion for charitable work and brings awareness to Cerebral Palsy patients by spending time with, singing and playing guitar for children in hospitals. She's also hosted a lemonade stand to help raise money for childhood cancer for the last five years!
We got to know more about Kyndra with our 10 Fun Facts feature. See what she shared below:
1. I manifested the role of Dawn Schafer on season 2 of the BSC.
2. I love watching films. My top genres are horror, sci-fi, and action adventure.
3. All my cats are rescued (I have 3!) and I have a dog named after Popeye The Sailor Man.
4. I adore chunky jewelry, and sustainable fashion. I thrifted basically my whole ring collection.
5. I like to collect antiques! I get this from my Grumpa.
6. I am an avid reader. My favorite book is "Fahrenheit 451″ at the moment.
7. Big fan of music. I play the guitar and piano, I also love to sing! I often listen to Classical, Jazz, Rock, and 80s-90s music.
8. I am creative and artistic. I love to express myself through fashion and art.
9. Frida Kahlo is someone who inspires me. I love how she isn't afraid to step out of the box when it comes to beauty standards.
10. I'm stronger than I look! I train really hard. I'm a gymnast and I do boxing.
Check out Kyndra Sanchez in season two of The Baby-Sitters Club, streaming NOW on Netflix. Watch the trailer here!
Like Just Jared Jr. on FB