Mon, 18 October 2021 at 4:00 pm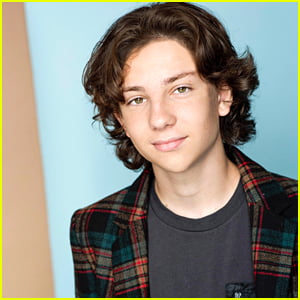 Tristian Eggerling is having a big last few days!
The actor's new movie Halloween Kills just debuted in theaters and on Peacock on Friday (October 15), and became the No 1 movie at the box office.
Tristian makes his big screen debut in the film as the younger version of Lonnie Elam, played by Robert Longstreet as the adult version.
Keep reading to learn more…
Lonnie's backstory unfolds events of the 1978 classic film, including how his close call with The Shape affected him into his adulthood.
Halloween Kills is of course the latest chapter in the Halloween movie series.
Here's a synopsis: minutes after Laurie Strode (Jamie Lee Curtis), her daughter Karen (Judy Greer) and granddaughter Allyson (Andi Matichak) left masked monster Michael Myers caged and burning in Laurie's basement, Laurie is rushed to the hospital with life-threatening injuries, believing she finally killed her lifelong tormentor.
But when Michael manages to free himself from Laurie's trap, his ritual bloodbath resumes. As Laurie fights her pain and prepares to defend herself against him, she inspires all of Haddonfield to rise up against their unstoppable monster.
The Strode women join a group of other survivors of Michael's first rampage who decide to take matters into their own hands, forming a vigilante mob that sets out to hunt Michael down, once and for all.
JJJ spoke with Tristian Eggerling and got to know 10 Fun Facts about him. Check 'em out below!
1. I primarily play mid fielder on a club soccer team, but I'm also a trained goalkeeper.
2. I play competitive chess and loved the limited series The Queen's Gambit.
3. I am a self-taught animator. I have always had a deep love for storytelling and animating allows me to capture the stories I create.
4. I tend to book dramatic roles. I've been kidnapped, shot in the leg, screamed into tears, and most recently chased by the Boogeyman.
5. I prefer to have a one on one conversation about important world topics versus being in a large group.
6. I have an Irish Setter named Nobu, and I didn't name him that because my dad is a chef.
7. I started a charity called Cleat Club to donate and redistribute outgrown kids' cleats.
8. Since I was 8 years old, the same photographer has taken an action shot of me channeling a different superhero from Marvel and DC.
9. Ever since I visited JPL with Mensa, I have been interested in everything NASA does, and want to study Mechanical Engineering after high school.
10. My family is Italian and I have grown up immersed in some serious Italian culture. Ciao!
Like Just Jared Jr. on FB