Tue, 19 October 2021 at 7:07 pm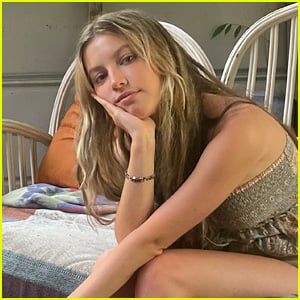 Ava Grace is starring in the brand new movie Honey Girls!
The young entertainer, who is also a singer/songwriter, can be seen as Charlie, one third of the Honey Girls trio in the movie, which is about friendship, girl power and being true to yourself.
Click inside to learn more about Ava Grace…
The new movie from Build-A-Bear Entertainment, and based off of the product line at Build-A-Bear Workship, follows three young musicians who participate in a talent competition to discover the next great solo artist, hosted by global pop-star Fancy G (Ashanti).
The competitors quickly discover that they are "better together" and form a secret band called HONEY GIRLS that has an immediate viral mega hit! Performing in disguise to avoid detection and elimination by Fancy G, these three competitors must ultimately decide what is more important – fame or friendship.
Honey Girls is out now via digital and DVD. Watch the trailer at the bottom of this post!
JJJ spoke with Ava Grace and got to know more about her. Check out her 10 Fun Facts below:
1. I play 2 instruments, piano and guitar. I began classical piano when I was 5, then begged my parents to get me guitar lessons when I was 8, and experimented with other instruments after as well.
2. I started acting when I was 7, I took an interest in musical theatre and did it for years. Shortly after I focused on film acting!
3. Some of my favorite artists include Lauryn Hill, Fiona Apple, Norah Jones, Led Zeppelin, The Beatles, and so many more.
4. My first full song I ever wrote was about a dove, and my name actually means bird!
5. I started writing little choruses when I was 6, but began writing full songs when I was 10. I would play them at events such as The Smokey Mountain Songwriting Festival, Eddies Attic Open mic, EOP songwriters night at Red Clay Theatre, and coffee shops.
6. Me and my mom, Laura, love traveling. We do quite often, and always come back with the greatest memories.
7. I've always loved animals. I have 3 pets, and when I was younger I would incubate and hatch baby chicks. At 9, I decided to be vegetarian and at 12 I decided to be vegan!
8. One of my most memorable experiences was when I attended a summer camp called A Cappella Academy. I met so many incredible people, and it was such a great community.
9. I'm a very visual person, I enjoy putting imagery in my writing, and I've always had a love for art. I love acrylic, watercolor, and ink/pencil. I also paint on my walls and doors in my room, painting is a form of self expression for me.
10. I have an upcoming album called Junk, I recorded it with Mark Nilan Jr (and his sweet puppy Livy) in CA. My first single releases in October, and is called "Kite"!
ICYMI: Get to know Ava's co-star Frankie McNellis!
Like Just Jared Jr. on FB