Wed, 20 October 2021 at 5:44 pm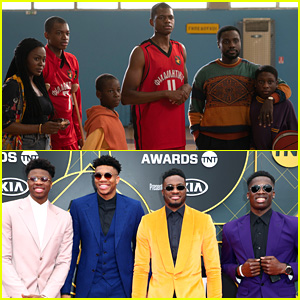 Disney+ is making a movie about NBA champions Giannis, Thanasis and Kostas Antetokounmpo!
The streaming service made the big announcement on Wednesday (October 20), just under three months since Giannis and his team, the Milwaukee Bucks, won the 2021 NBA Finals.
More details inside…
Rise is a new film from Disney, based on the "triumphant real life story about the remarkable family that produced the first trio of brothers to become NBA champions in the history of the league– Giannis and Thanasis Antetokounmpo of the Milwaukee Bucks and Los Angeles Laker Kostas Antetokounmpo."
In the movie, "audiences will witness how one family's vision, determination and faith lifted them out of obscurity to launch the career of three NBA champions—two-time MVP Giannis and his brothers, Thanasis and Kostas. Last season, Giannis and Thanasis helped bring the Bucks their first championship ring in 50 years, while Kostas played for the previous season champs, the Lakers."
Newcomers and real life brothers Uche Agada and Ral Agada will portray young Giannis and Thanasis, respectively, with Jaden Osimuwa and Elijah Shomanke as their other two brothers, Kostas and Alex.
Dayo Okeniyi will star as their father Charles, while Yetide Badaki will play their mom Vera. Manish Dayal has been cast as Giannis' tenacious agent Kevin and Taylor Nichols will play John Hammond, general manager of the Milwaukee Bucks.
Maximiliano Hernandez, Eddie Cahill, Pilar Holland and McColm Kona Cephas Jr round out the cast.
"I am thrilled and honored that Disney+ is bringing my family's story to people all over the world. My hope is that it will inspire those in similar circumstances to keep the faith, stay true to their goals and not to give up on striving for a better life," Giannis, who will also executive produce, said in a statement.
Like Just Jared Jr. on FB