Tue, 26 October 2021 at 3:29 pm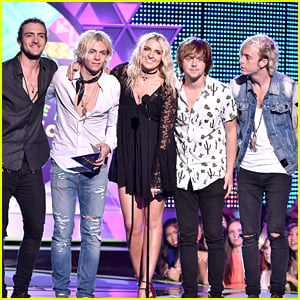 Ross and Rocky Lynch are dishing on what changes happened that led to them creating The Driver Era.
The brothers were previously in a family band called R5 with siblings Riker and Ryland, as well as Ellington Ratliff.
R5 ended up transitioning to The Driver Era in 2018, with just Ross and Rocky as a duo.
Earlier this month, they opened up about what really led to that change and how the transition took place…
Check out what the guys said inside…
"'Preacher Man' was the reason why, basically, R5 ended up stopping and becoming The Driver Era," Rocky said on the Zach Sang Show. "'Preacher Man' came around and everyone on our team, everyone at Hollywood [Records] was like, 'Alright, this is the radio song, we gotta make some change around now-ish."
"That's when, you know, there's a couple meetings where we were at Hollywood, like having a meeting about changing the band name. There's a meeting, and everyone was still there, and there was names thrown around. I can't remember what they were," he continued. "And then after a month or so of that process working out, I just got to a point where I was like, alright, we can't just have the same band and be like, 'Hey! We are now, whatever the name would have been.' Then it got to the point it is now."
"Well, because we were the ones spending all the time [doing it]," Ross added.
"As we're here now, it's obvious that it should have gotten to this point because everyone has their own interests now," Rocky said.
He also added that they're always trying to get into the studio to work with Ellington again, who actually just recently got married.
Despite R5 not being together, Riker and Ryland still go on tour to perform as part of The Driver Era's band, and they have been rotating drummers.
ICYMI: The Driver Era just dropped their new album Girlfriend, and are set to hit the road in November. See their tour dates HERE!
Like Just Jared Jr. on FB