Tue, 02 November 2021 at 1:45 pm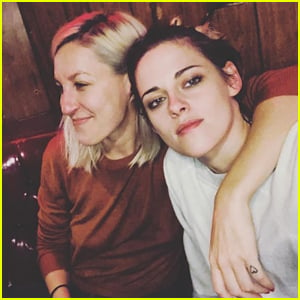 A wedding is in the future for Kristen Stewart and Dylan Meyer!
The 31-year-old actress just revealed that her girlfriend of two years asked her to get married while appearing on The Howard Stern Show.
Find out more details inside…
"We're marrying, we're totally gonna do it," Kristen said on SiriusXM's The Howard Stern Show (via E! News). "I wanted to be proposed to, so I think I very distinctly carved out what I wanted and she nailed it. We're marrying, it's happening."
If you didn't know, Kristen and Dylan were first linked in August 2019 after being seen showing some PDA in New York City. Check out the pics here!
During her appearance on The Howard Stern Show, Kristen also revealed some details they've already decided on for their wedding.
"I don't want to have COVID even be like a thing," she said, saying it's not going to be for at least another year.
Kristen added that the "food is the biggest deal. I don't care about flowers and s–t like that. The food needs to be on point."
What would she wear?? "I want to wear the best pair of Levi's ever and, like, an old T-shirt that has a tuxedo printed on it, but like cut-off and barefoot," she dished. "I want to get married in, like, Topanga. I want to be chilling. I want it to be very homey. I want to see her laugh hysterically when she sees me in, like, a faux tuxedo T-shirt."
"I want to stay home. I want to be in LA so everyone can come. I want it to be pretty chill. I don't want anyone walking anyone down any aisles," Kristen said. "We're just going to, like, stand and do vows and f–king party after. It's kind of just a great excuse to get together and say 'I love you' in front of all your friends."
Congratulations to Kristen and Dylan!!!
Like Just Jared Jr. on FB