Wed, 03 November 2021 at 12:51 pm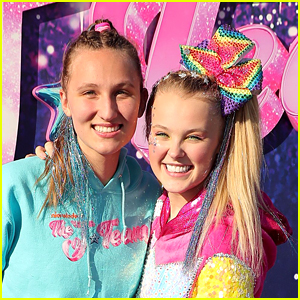 JoJo Siwa is speaking out about her breakup with Kylie Prew for the first time.
If you didn't know, the 18-year-old and her girlfriend broke up a few weeks ago after 10 months of dating.
JoJo has yet to talk about the split or confirm it herself publicly, but she did just that while appearing on a new episode of Paris Hilton's This Is Paris podcast.
Click inside to see what she said…
"Me and my love life, we're okay," she told Paris. "I've actually yet to talk about this, officially, publicly, but we broke up."
"She is literally still my best friend. I talked to her yesterday, she just got a new puppy. She's awesome, she's having the time of her life," JoJo continued. "I'm having the time of my life. So I'm really lucky that I didn't lose her completely, because, you know, even though relationships end, friendships don't have to end."
"I think that's something I even didn't know could happen, and I was very thankful that it can because that's all I wanted," she said. "I'm really happy that I remember all the fun times and all the good times, and nothing bad happened. It just is the cheesy saying of 'right person, wrong time,' and I hate cheesy sayings, but they're true. Everything's good. I'm good."
JoJo then added that her busy schedule contributed to their breakup.
"Hectic schedule and we're just both so young. She's 17, I'm 18, and we are literally best friends, and I would take a bullet for her and I know she would do the same for me," she shared. "We are just literally right person, wrong time."
Currently, not only is JoJo competing on Dancing With The Stars, but she also has a new series premiering on Peacock TOMORROW (November 4), she's getting ready to go back on tour in early 2022, and she has a movie in the works!
Like Just Jared Jr. on FB