Fri, 05 November 2021 at 3:54 pm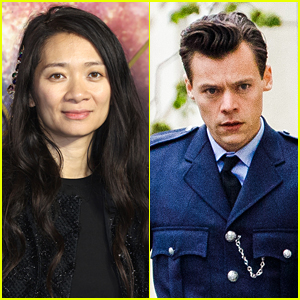 WARNING: THIS POST CONTAINS MARVEL'S ETERNALS SPOILERS!!
A few weeks ago, it was reported that Harry Styles has a cameo in the new Marvel film Eternals.
The news was revealed after a reporter shared a tweet following the Hollywood premiere in mid-October.
Now, the director of the movie, Chloe Zhao, is opening up about casting Harry in the film, which was a complete shock to all.
Click inside to see what she said… (Warning, spoilers ahead)
WARNING: DO NOT CONTINUE IF YOU DON'T WANT ETERNALS SPOILERS!
Harry is playing Eros, the brother of Thanos, who eventually becomes the superhero Starfox.
His appearance in the film comes in one of the end-credits (yes, there are multiple), where "Eros and Pip the Troll (voiced by Patton Oswalt) appear before Thena (Angelina Jolie), Druig (Barry Keoghan), and Makkari (Lauren Ridloff) who are left confused and needing assistance after Arishem the Judge (David Kaye) takes Sersi (Gemma Chan), Kingo (Kumail Nanjiani), and Phastos (Brian Tyree Henry) to reckon for their actions," according to Deadline.
"Harry as Eros was very much a package deal for me," director Chloe told Deadline. "I pitched the idea of Pip the Troll and Eros to Kevin [Feige] awhile back and I love the idea of exploring an Eternal who is beyond Titan and who may have influenced Thanos throughout the years the same way Eternals influenced us, earthlings."
"And then, it wasn't like I suggested Eros, and let's go find actors. I kept tabs on Harry since Dunkirk, I thought he was very interesting. After meeting him I realized he is that character—the same way I cast the rest of my cast. There's so much of Eros in him. For me, if he says yes and Kevin says yes then it's a go. And I'm very happy they both did," she added.
Harry has really been building his acting resume since Dunkirk, and especially over the last couple of years. He'll also be seen in the upcoming Don't Worry Darling with Florence Pugh, as well as My Policeman with Emma Corrin and David Dawson.
ICYMI: Find out who else recently joined the Marvel Cinematic Universe!
Like Just Jared Jr. on FB