Mon, 08 November 2021 at 6:10 pm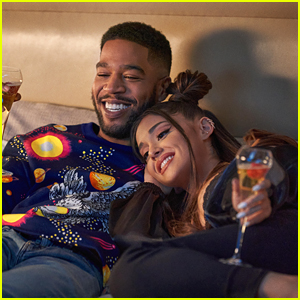 Ariana Grande is opening up about her upcoming role in the Netflix movie Don't Look Up!
The 28-year-old singer and actress is among the star-studded cast, but she only has a small role in the film, as Riley Bina.
Ariana recently opened up about her part in the movie, where she acts opposite fellow artist Kid Cudi.
See what she said inside…
"This was so exciting because I love [director] Adam McKay, I'm such a fan of his work. I'm such a comedy fan and I adore him," Ariana said on The Tonight Show. "He reached out and said, 'I have this role for you in my new movie.' I was like, 'Oh my god, well hold on 'cause I have to audition. I need to earn this. I have to put myself on tape. When can I come in for it?'"
"He was like, 'No no no. It's not, it's a tiny thing. It's a tiny quick thing.' I was like, 'Okay, okay. Let me read it, I want to make sure I can do this,'" she continued.
"So I read it. I loved it. It's brilliant. I have this tiny but such a fun and incredibly part. I feel so excited that I got to be a part of this. It's so cool," Ariana shared.
She also dished a little on her character, who is also a pop star.
"I play Riley Bina, who is this look, and somewhat unaware pop star, whose relationship with DJ Chello, played by the amazing Kid Cudi. The news about their relationship fluctuating, sort of eclipses the news of the Earth coming to an end. Which is great," she said.
ICYMI: Check out the Don't Look Up trailer here!
Right after talking about the Netflix movie, host Jimmy Fallon asked Ariana if there would be more acting in the future for her, and presumably just hours after filming the segment, it was announced that she would be starring in the upcoming Wicked movie!
Like Just Jared Jr. on FB