Tue, 09 November 2021 at 2:07 pm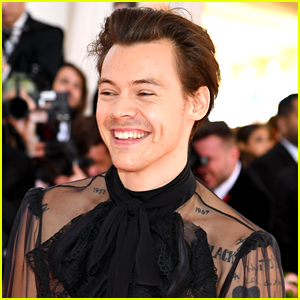 Word on the street is, Harry Styles actually filmed another scene for Eternals!
In a new interview, a few members of the cast revealed that they actually filmed another, longer scene with the 27-year-old singer, but it of course, did not make the final cut.
Click inside to learn more…
WARNING: POSSIBLE SPOILERS BELOW!
"He arrived, and he was just like part of us, immediately," Salma Hayek told EW about when they first met Harry on set.
Lauren Ridloff, who is deaf and uses an interpreter, actually had a lovely bonding moment with Harry while filming the cut scene.
"Chloe [Zhao, director] would say, 'Cut,' and every time she yelled, 'Cut,' the interpreter would have to run around and tap me on the shoulder," Lauren dished. "So after a couple times, Harry was just like, 'Is it okay if I just tap you and cue you when we stop shooting? I was like, 'Yeah, thank you!' That's just who Harry is: He just watches out, and he thinks: 'What can I do?'"
In the cut scene, "the Eternals and Eros (Styles) are sitting aboard the starship Domo, communicating with the Celestial Arishem with their eyes closed," EW reveals.
In case you missed it, see what director Chloe Zhao said about casting Harry in the movie.
Get more details about Harry's Eternals end credits scene here!
Like Just Jared Jr. on FB