Mon, 15 November 2021 at 3:53 pm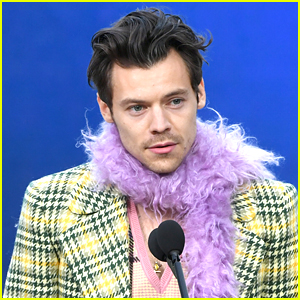 Harry Styles takes two covers for the new winter issue of Dazed magazine!
The 27-year-old musician and actor opened up to the mag about his new product line Pleasing, life after One Direction and his latest movie role in the new Marvel film Eternals.
See what he said inside…
On life after One Direction: "I was 16 [when One Direction started], I just kind of finished school and didn't really know what it was that was happening,' he explains. 'Everything was really new and exciting and I didn't know how long everything was gonna last. It kind of became like, 'Woah, how long can we keep this going?' because I really didn't expect any of this to happen. There was a time when I was younger, and I was in the band, when I would have been afraid for everything to have stopped. I didn't necessarily know who I was if I wasn't in the band. Now, the idea of people going, 'We don't like your music any more, go away' doesn't scare me. I think there was a time when it did. It gives me the freedom to kind of go, 'Great!' I'm not working from a place of fear. I'm working from a place of wanting to work stuff out, and try different things."
On Eternals: "I'm only in right at the very end," he says humbly. "But who didn't grow up wanting to be a superhero, you know? It was a great experience and I'm so grateful to have gotten to work with Chloé [Zhao]."
On acting: "I like to challenge myself and do something different and movies are definitely where I feel most out of my comfort zone," he reflects. "I'm coming from music where I don't think anyone really knows how it works, but I am somewhat in my comfort zone! But in movies, when I show up, I'm the new guy. I haven't been [an actor] for a long time and that's really cool, I feel like I've learned so much and life is about learning."
For more from Harry Styles, head over to DazedDigital.com!
Like Just Jared Jr. on FB