Fri, 03 December 2021 at 2:24 pm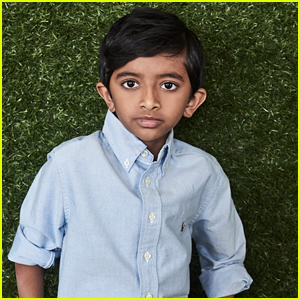 Aditya Geddada is making his on-screen debut in the brand new movie Encounter!
The young actor portrays Bobby in the film, one of the sons of Riz Ahmed's Malik.
Here's a synopsis: A decorated Marine goes on a rescue mission to save his two young sons from an unhuman threat. As their journey takes them in increasingly dangerous directions, the boys will need to leave their childhoods behind.
Early reviews of the movie have called Aditya a scene stealer, praising his heartbreaking performance, as well as his comedy throughout the pic.
To celebrate the movie's release, we spoke to the young actor, who is sure to have a bright future ahead, and got to know 10 Fun Facts about him!
Click inside to learn more…
1. Encounter was my first ever audition when I was seven years old!
2. I have (almost) memorized all the Harry Potter books, as I have listened to the audio books an infinite number of times.
3. My favorite ice cream flavor is Cookies & Cream..yum!!
4. My favorite country to visit is India, as I have a lot of family there.
5. I once climbed a 40-foot climbing wall when I was six years old.
6. I love Legos, Beyblades, Bakugan, and playing Roblox with my friends.
7. My favorite TV shows are Cobra Kai and Jurassic World: Camp Cretaceous.
8. I love to illustrate and write my own comics as I'm inspired by Calvin & Hobbes.
9. I love to do DDS which stands for Donut Delivery Service, where I buy donuts and deliver them to my friends in the neighborhood.
10. My sister and I have made it an annual holiday tradition to raise money towards toys at the Lucile Packard Children's Hospital, Stanford, CA.
Check out Encounter in theaters NOW, and look out for it's premiere on Prime Video next Friday (December 10).
Aditya is also pictured in the gallery at the premiere of Encounter on Thursday (December 3) in Los Angeles, alongside co-stars Riz Ahmed, Lucien-River Chauhan and Janina Gavankar, as well as director Michael Pearce and Aditya's sister Pragnya.
Like Just Jared Jr. on FB