Thu, 09 December 2021 at 6:13 pm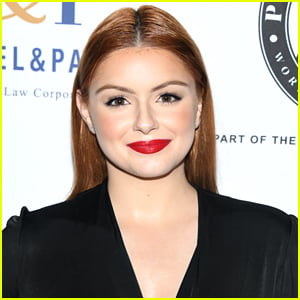 Ariel Winter is opening up about experiencing cyberbullying since she was young.
The 23-year-old Modern Family actress is recalling when her body started changing after she turned 12 years old, and the commentary from trolls on the internet.
See what she shared inside…
"I got called a fat sl-t when I was 13. That was rough. Because I had gained weight and my body changed, I had to wear different outfits, and I wore a dress that had cutouts [across her chest] and it was like the headlines were dark," Ariel shared on Red Table Talk: The Estefans. "Fat sl-t was rough for me. And it continued – it was the [Modern Family] fans – some of them, we have lovely, lovely fans – but some were also hard on me…"
"From them, they were like, 'How did you go from Alex Dunphy to being like a whore? You're trying to be sexy, you're 13, you're a horrible role model, what are you showing people?'" she added.
Ariel also shared how it changed through high school.
"Having my body change so much, it also changed when I was in high school because I got on antidepressants. I gained 30 pounds," she said on the show. "It was rough going to school, it was rough online, on my Instagram it was like flooding comments, flooding comments."
"And so then I was like, okay they hate this about me I need to work on it. I need to be thinner, I need to change my hair here, my cheeks look weird…if I change this about me, the things they hate about me I'm going to not get that anymore. I'm gonna get praise."
Lauren Jauregui was also on the episode talking about cyberbullying and being outed publicly.
Tune in to the full episode of Red Table Talk: The Estefans below.
Like Just Jared Jr. on FB