Fri, 10 December 2021 at 3:09 pm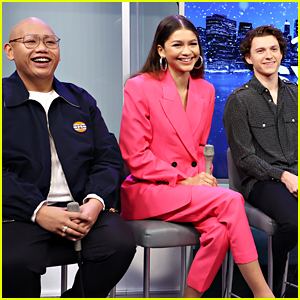 Tom Holland, Zendaya, and Jacob Batalon are continuing their press tour for the upcoming movie Spider-Man: No Way Home!
The three stars sat on a panel for a SiriusXM Town Hall on Friday morning (December 10) in New York City.
The young actors were all seen arriving at Good Morning America that day for an early morning interview.
During the town hall, Tom, Zendaya, and Jacob looked back at their years of friendship.
FYI: Zendaya is wearing Alexander McQueen.
Click inside to find out what they said…
Keep reading to see the full transcript…
Jessica Shaw: Do you feel like the chemistry was, was there from the beginning?
Jacob Batalon: Yeah. I feel like we absolutely all really loved each other immediately. We spent time like bonding. Yeah. The picnic thing. Yeah. Really got us.
Tom Holland: We're saying that Jon [Watts] sent us to the aquarium and then halfway through our trip, we were all like, 'we don't like the aquarium' this is mean and we left.
Jacob Batalon: Yeah. We saw like these really beautiful whales and they're like stuck in a building.
Zendaya: We were, they had us living across the street from the aquarium. And I just remember like looking out my window and being like, it's hot, it's Atlanta, it's hot. Like it's the summertime. And I'm like, there's a whale in there. Like several whales in that building.
Tom Holland: I remember the lady was like, 'it's okay. Cause we saved these whales from fishermen in Thailand.' And, and then Jacob was like, wouldn't saving them. Be putting them back in the ocean.
Jacob Batalon: Maybe not taking them somewhere…
Jessica Shaw: But did the aquarium at that point?
Tom Holland: No, we just left and, and then we went and had a picnic. Which was really nice.
Zendaya: Do you remember that we didn't know what to buy for the picnic, it was like, it felt like a very like adult thing, like cheese and like crackers and olives. And we were like, I don't know. What do you guys wanna get? Some chips? Lunchables. [Laughs]
Jessica Shaw: Cut to three movies later. What is your on your Wednesday movie club? What was the snack of choice?
Tom Holland: I like the sour patch kids. I like sitting there and just burning my mouth off after 30 sour patch kids.
Like Just Jared Jr. on FB