Tue, 14 December 2021 at 6:45 pm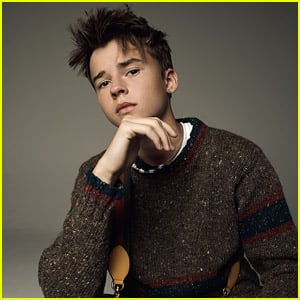 Maxwell Jenkins is having a big month in December!
The month kicked off with the third and final season of his hit Netflix series Lost In Space, and at the time of this post, it is the No 5 most popular title in the U.S.
Maxwell stars in the show as Will Robinson, alongside Toby Stephens, Molly Parker, Mina Sundwall, Taylor Russell, Ignacio Serricchio and Parker Posey.
Earlier this year, the actor starred as Joseph Bell in the based on a true story movie Joe Bell, with Mark Wahlberg. He will also be seen in the upcoming Reacher series, which debuts February 4th on Prime Video, where he portrays a Young Reacher.
To celebrate the final season of Lost In Space out on Netflix now, we spoke to Maxwell Jenkins and learned 10 Fun Facts about him.
See what he shared inside…
Check out his fun facts below!
1. I grew up in the circus. My family owns a theatrical circus in Chicago called Midnight Circus (midnightcircus.net), and I started performing an act with my dad in the ring when I was three years old.
2. I go to a Chicago public high school. I've always gone to public school, and I am super proud of that fact.
3. I started playing violin when I was 3. Now, I play guitar, mandolin, electric bass, and drums. After each Lost in Space season, I rewarded myself with a new electric guitar. I've named them all: Jupiter, Bernie, and my Telecaster is named Debbie. She's my favorite.
4. My parents thought about naming me Cowboy Jesus when I was born. I guess it was a big debate. Anyway, when I was 8, I ended up starting a band, and that's where we got our name: Cowboy Jesus & the Sugar Bums.
5. I am obsessed with F1 racing. Ferrari is my favorite team. (Forza Ferrari!) I used to wake up in Vancouver at 5 am to watch the races.
6. I turned 16 in May and bought myself a 2011 Ford Mustang. I love American cars, and I would love to restore an 81' Firebird one day.
7. My parents used Star Wars as a parenting tool when I was a kid… most kids were being threatened with "time-out" and my parents were like, "Remember when Anakin was being consumed by the lava pit? Stay away from the dark side, Max!"
8. I love board sports. Since I was seven, I've been snowboarding, and I also like to skateboard. I'm also a pretty good surfer …for a kid from Chicago.
9. I have a huge family that lives in Sicily- I hope to do an Italian film one day so we can have a big family reunion.
10. I've always grown up around rescued Pitbulls. My first word was "Woof". I think I was quoting Lola- our first rescued Pit. We currently have 3 Pitties: Rickie, Bobbie, and Rosie Rae.
Like Just Jared Jr. on FB