Tue, 14 December 2021 at 8:25 pm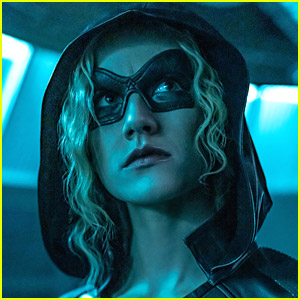 Katherine McNamara returns as Mia Queen/Green Arrow on The Flash!
In tonight's (December 14) Armageddon conclusion, Mia Queen drops in from the future looking to save a lost loved one, and she won't let anything stand in her way.
Katherine was one of quite a few Arrowverse stars who returned and brought their characters to the big five-episode event.
In a recent interview, the actress and singer opened up about suiting back up and jumping into her character once again.
Click inside to see what she said…
"It was a huge gift. I mean, truly. Mia Queen, Mia Smoak, Mia Smoak-Queen, Green Arrow, Blackstar, whatever name you want to give her, she has always been so special to me," she told ComicBook.com. "And the writers on Arrow, the writers on all the shows in the Arrowverse crossover and Eric Wallace and all the writers on The Flash, they always do such an incredible job of giving her so much to do and so much to struggle with internally and externally. It's the biggest gift. I've had so much fun with this character, and I was so thrilled and honored that they asked me to come back."
"It was actually quite amazing, truly, just finishing up Arrow and then coming back to do this episode of Flash really kind of book-ended the pandemic for me in a lot of ways, aside from doing The Stand and a couple of other things here and there," Katherine added. "It's funny, I think all of us have been trying to go through this pandemic figuring out what we're missing and what could make us feel normal every day and it wasn't until I put on the suit and was on set for a couple days that I realized, 'Oh, yes, this is it. This is that thing that I've been missing and seeking for the last several years.' And it felt like coming home."
If you didn't know, The Flash will go on a hiatus after tonight's all new episode, and it will return in March 2022.
If you missed it, Katherine recently had a Shadowhunters reunion!
Like Just Jared Jr. on FB