Tue, 14 December 2021 at 2:20 pm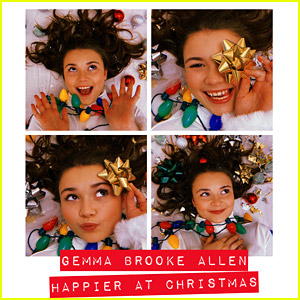 Gemma Brooke Allen is getting in the holiday spirit with her new song "Happier at Christmas"!
The young actress and singer wrote the new song herself, which is out across all major music platforms now.
"I came up with the idea for 'Happier at Christmas' with my mom. We were talking about how it's been a really rough couple of years for everyone but, with Christmas, it's almost like this magical time of year where everything just feels better," Gemma told JJJ exclusively.
"There's this magic in the air and for a little bit we can slow down and take a second to think about all the things we can be grateful for," she added. "I wanted to have a fun song that can make you smile and dance and cheer everyone up a little."
Gemma also just recently starred in the new Netflix movie Mixtape, alongside Julie Bowen and Audrey Hsieh. Check out the trailer here!
Along with her new song and new Netflix movie, we got to know Gemma with our exclusive 10 Fun Facts feature.
Click inside to listen to the song and to learn more…
Check 'em out below!
Gemma Brooke Allen – 10 Fun Facts
1. I love to sing and have been doing it since I was 3! My mom sings and started singing with me and teaching me harmonies at age 3. When Netflix hired me for Mixtape they had no idea I could sing, but when director Valerie Weiss heard my voice, she had me go in and record the final song for the film, "Dancing in the Moonlight," and that is me actually singing in the film and on the soundtrack.
2. I am obsessed with animals. I am currently obsessed with getting a pig and put together an entire PowerPoint presentation to convince my parents to let me get one. Jury is still out on whether I can get one or not.
3. I started dancing at 3 and danced competitively for years. My favorite type of dance is hip hop and jazz.
4. I starred in Kate on Netflix as a Young Kate and got to do amazing fight and stunt training. I learned how to shoot and safely handle a real gun, handle a knife, and sparring. Production originally hired a stunt double but was so impressed at how fast I picked everything up I ended up doing all of my own stunts in the film.
5. I am really into fashion and take sewing lessons. I hope to have my own fashion line one day.
6. I love to bake and am obsessed with baking competition shows.
7. I love the beach and water. I love to surf and recently got my own surfboard.
8. I work with a wonderful charity called America's Kids Belong. We help create videos and interviews with foster children that help them get placed in their forever homes. Every kid deserves to be loved and belong in a permanent loving home. Playing Beverly in Mixtape really helped bring me closer to this cause.
9. My little brother Ryder Allen is also an actor and last year starred opposite Justin Timberlake in the film Palmer and was nominated for a Critics Choice Award. I like to think he learned everything he knows from me – lol! One day I hope to work together with him on the same project.
10. I was on set visiting my brother on my birthday, and Justin Timberlake sang me happy birthday. He's so nice!!!!!
Download "Happier at Christmas" and add it to your holiday playlists HERE, and be sure to check out Mixtape, streaming NOW on Netflix!
Like Just Jared Jr. on FB