Wed, 22 December 2021 at 5:35 pm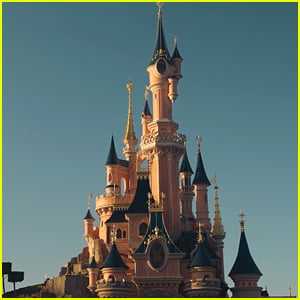 Le Château de la Belle au Bois Dormant, aka Sleeping Beauty Castle, is back open – brighter, golder and better than ever!
The Disneyland Paris monument recently underwent a nearly year-long refurbishment and it's now back open up for park goers.
The latest transformation took two years of prep work, then the almost year-long renovation on site.
Sleeping Beauty castle has more than 10 shades of pink, among other colors, and more than 41,000 gold leaves!
Find out more details inside…
"It was the first time we undertook something so monumental. Certain effects have even been improved so that the castle's structure will be even more resilient in the upcoming years," Tracy Eck, Art Director, Walt Disney Imagineering Paris, shared in a statement, via Disney Parks Blog. "It took nearly a year to complete these works on site with all of the teams. Painters, electricians, gilders, craftspeople in charge of the tiled roofs… It was a hive of activity."
"Some of the suppliers with whom we were lucky to collaborate on this project only work on historical monuments," Tracy added. "When they accepted this assignment, we realized that they viewed our castle as a historical monument that is a part of our heritage. It was very touching."
The castle refurbishment took 50,000 hours to complete, using 1200 liters of paint, including 14 shades of pink, 41,200 gold leaves and 19,900 custom slate tiles!
Le Château de la Belle au Bois Dormant sits at 141 feet tall, with it's tallest tower at 55 feet high. It also weighs a whopping 15 tons.
Check out the video here for an inside look at the transformation…
Like Just Jared Jr. on FB