Mon, 27 December 2021 at 3:30 pm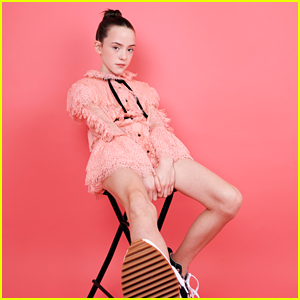 Aubin Bradley helped bring the Loud family to life this holiday season in the live action A Loud House Christmas movie!
The young actress portrayed the dark and spooky sibling Lucy Loud in the Nickelodeon Christmas feature.
A Loud House Christmas was the top entertainment telecast on TV of the year, to date, in the key kids demo, and it brought in over 3.1 million total viewers on premiere weekend.
The movie is also currently available to stream on Paramount+!
In celebration of the movie and it's success, we got to know Aubin with 10 Fun Facts.
Check 'em out inside…
Get to know Aubin with her fun facts below…
1. I am part of a big family, and I am the youngest sibling. I have two older sisters, Catherine and Alex, who are incredible actresses and an older brother, Colin, who is a super athlete. I really look up to all my siblings.
2. I LOVE to read – especially fantasy books. My favorite book right now is "Land of Stories."
3. I am small but super athletic – love playing soccer, basketball, and skiing (especially very fast!)
4. I am a serious dancer and dance all genres competitively. My favorite is contemporary, lyrical and ballet. I train 15-20 hours a week with my sisters! I also am a singer. And yes, I have to admit I sing in the shower every night!
5. I am known for making silly voices – my favorite impersonation that I do is Stitch from Lilo and Stitch. My sister Alex and I are always talking to each other in funny voices. My mom joins in a lot too with her silly voices. Sometimes we forget and use our silly voices in public and people laugh at us!
6. I am a budding chef and love making holiday dinners from scratch with my mom – my last creation was Baby Yoda deviled eggs. I found the recipe on TikTok.
7. I am a theme park enthusiast and love to take on the most terrifying roller coasters.
8. I absolutely hate to miss school. Math and science are my best subjects. I am a little bit of a nerd.
9. I sleep with tons of stuffed animals around me at night in my bed. Right now, I am sleeping with 2 ostriches, 4 ducks, 2 dragons, 1 dinosaur, 1 bat, 1 koala bear, 1 penguin, 1 wooly mammoth, 2 elephants, 1 crocodile, and a Baby Yoda. My favorite animal is the ostrich – they only have two toes.
10. I love everything about outer space and all things astronomy, and want to travel into space one day.
Aubin was also recently seen playing Ana, Dorota's daughter, on the Thanksgiving episode of the Gossip Girl revival on HBO Max.
Like Just Jared Jr. on FB