Fri, 31 December 2021 at 7:07 pm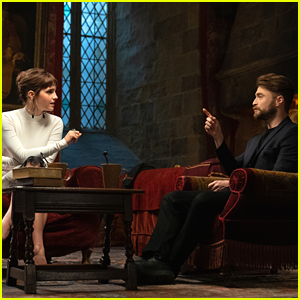 The Harry Potter 20th Anniversary: Return to Hogwarts reunion premieres tomorrow!
The reunion special will reunite all of the major stars of the franchise, including Daniel Radcliffe and Emma Watson, who opened up in one of the clips about giving dating advice to each other.
Click inside to read what they said…
In the clip, Daniel and Emma recalled working on Goblet of Fire, which debuted in 2005, and revealed that they gave each other dating tips.
"The amount of prep and coaching Emma and I would give each other on texting to the opposite sex," he said. "Like if she was texting a boy or I was texting a girl, I'd be like, 'She sent me this many kisses back, what do I do? This is a nightmare'."
Emma added that their relationship was much like Harry and Hermione's with an "older brother, younger sister thing."
Rupert Grint, who played Ron Weasley, did joke there were "a lot of hormones flying around [on set]".
Neville Longbottom starrer Matthew Lewis said that it was much like real school and there "were crushes and people went out with each other and broke up, just like we used to do in school…It was exactly the same environment, but it was just in a Defense of the Dark Arts class."
Daniel went on, saying that Goblet of Fire "is probably peak hormone, at least for me. It was exactly like you'd expect, especially since the fourth film had a bunch of hormonal teenagers anyway and bringing two massive groups of new people, all of them purposefully hot for the film."
"That film, yeah, it was all kicking off. [JK Rowling] wrote [Harry] very endearingly in those years and I felt it did not take a huge acting stretch for me to tap into my awkward nerdy teenage side."
Harry Potter 20th Anniversary: Return to Hogwarts reunion will premiere on Saturday, January 1 on HBO Max. Here's how to watch!
Like Just Jared Jr. on FB