Sun, 02 January 2022 at 12:26 am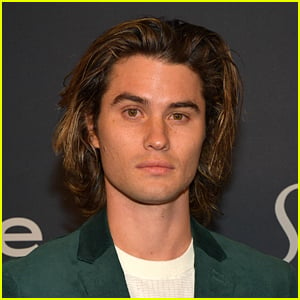 The woman who was spotted making out with Chase Stokes during his night out in Florida is now speaking out and coming forward with her identity.
TMZ published a video last week showing the 29-year-old Outer Banks actor kissing the woman while hanging out at Eden The Lounge in Orlando.
The outlet reported that she "came to the lounge with a guy … eyewitnesses say he was not happy she wasn't leaving with him. We're told Chase and the woman left the bar together."
Now, the woman has identified herself and is opening up about that night.
Click inside to find out what she had to say…
Val Bragg posted a video on TikTok the other day to deny that she is dating Chase and says that she is not the reason for his breakup with Madelyn Cline.
"I've been getting so many hate comments and DMs and people just calling me a home-wrecker and telling me that I'm the reason why Chase and his ex broke up, and that's not true whatsoever," Val said in her video. "As far as I'm concerned, they're both single. They've been single for, like, over a month or so."
Val says that "one thing led to another" and she "ended up just making out" with Chase around when the lounge was ready to close.
"I guess the lights turned on and somebody recorded us. We were both pretty drunk," she said. "It was literally just two drunk people making out… We're not dating. It was nothing serious like that. No, it's not like, 'Oh, he moved on' or anything like that. I'm pretty sure he's still going through it, and that's OK because I myself am going through a breakup as well."
Madelyn appears to have moved on already with a new guy.
Like Just Jared Jr. on FB